Russell Okung Signs Puff Daddy Deal With Broncos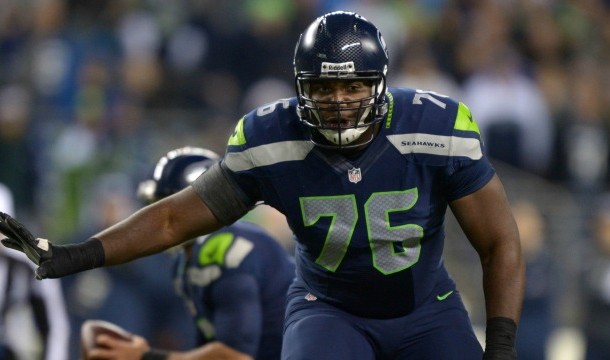 The game of professional sports is cut throat. It's a dog-eat-dog world filled with agents, players, and team executives. So when former Seahawks OT Russell Okung decided to negotiate his own, you would think he would go out and get the most money available on the market? Right?
Wrong.
Okung worked out a deal with the Broncos that is basically 100% non-guaranteed with only $5 mil possible in year one if he maxes out all incentives and a team option for the next 4 years!
From PFT:

But it's not even a $5 million deal for one year. He has a $1 million workout bonus, a $2 million base salary, and a $2 million roster bonus tied to being on the 53-man roster for any one game. So, basically, the Broncos are giving Okung $1 million to participate in the offseason program, with an option before Week One to pay him another $4 million to actually play for them in 2016.

While this deal guarantees Okung good money as long as he's healthy and playing, the Broncos don't have to eat any extra money if they want to dump Okung. His contract allows the team to renew or not renew Okung whenever they so please. You would think he'd learn a few lessons from his dumb holdout, but alas, doesn't look like it.
Read that again. That means that Okung basically SIGNED OVER HIS RIGHTS FOR THE NEXT 4 YEARS FOR FREE!
If he plays well, the Broncos keep him for cheap and can cut him whenever he declines with no money owed. The $53 million is all incentive based. If he's beat out in camp this summer, or if the Broncos find a younger cheaper player, he goes home with $1,000,000 for his troubles.
What kind of deal is this? 1990's Bad Boy artists signed better deals with Puff.
In the words of great man, "SMARTEN UP NAS, I CAN DIVIDE!"