Guess Who's Out as the Cowboys Narrow in on the #4 Draft Pick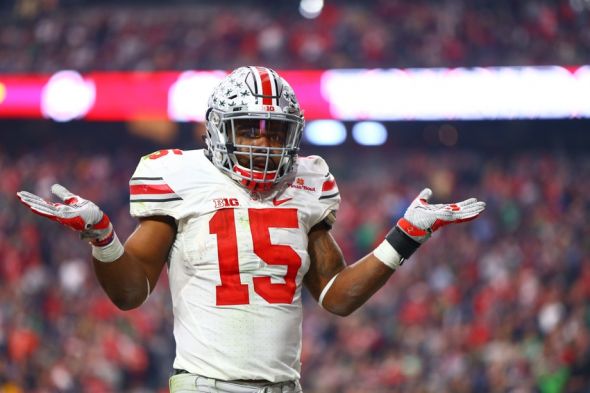 We are just a few weeks away from the draft and the Dallas Cowboys can practically consider themselves on the clock. As teams are having workouts and private meeting with draft-eligible players more and more information is beginning to "leak" out.
That's if you consider beat writer's educated guesses as leaks, but that's a different topic for a different day.
As far as the Dallas crowd goes they seem to agree on one thing. The Cowboys probably aren't getting Laremy Tunsil, Jalen Ramsey, or whoever is the top quarterback between Paxton Lynch and Jared Goff. But they can have their pick of any other player in the draft.
And shockingly one of the top prospects seems to not interest Jerry Jones:

"I don't believe the Dallas Cowboys will draft Joey Bosa," Zierlein said on The Pick Is In podcast. "I've heard that they're not in love with Joey Bosa. I don't think Joey Bosa is going to be a Cowboy."

Zierlein said it's his understanding that some other top prospects appeal more to Dallas for the No. 4 pick, while opinions in the Cowboys' building are more split on Bosa. The Cowboys coaching staff was in Columbus, Ohio, on Friday to conduct private workouts with some Buckeyes, and according to the Dallas Morning News, Bosa was among them. Zierlein's latest mock draft projects Dallas to take a different Buckeye, running back Ezekiel Elliott, at No. 4.

Source: NFL.com
I'm not surprised by this. After the "Watt-like" combine many people went back to see if they saw J.J. Watt on the tape and they simply won't see that type of player. The J.J. comparisons are going to do nothing but get Bosa more scrutinized than he deserves.
As for the selection of Ezekiel Elliott, it wouldn't be too bad. Dallas got some nice production out of Darren McFadden down the stretch but every general manager in football knows better than to count on Run DMC for 16 games. Zeke is the prototypical three down back with his pass catching and blocking skills and would take a ton of pressure off Tony Romo.
The only problem is that using the #4 pick on a RB is terrible positional value. Plus, Dallas just signed Alfred Morris to a deal a few days ago.
I would take Deforest Bucker DL Oregon. A back like Kenneth Dixon can be had in the second round.