What Does Brock Osweiler Leaving Mean for the Denver Broncos?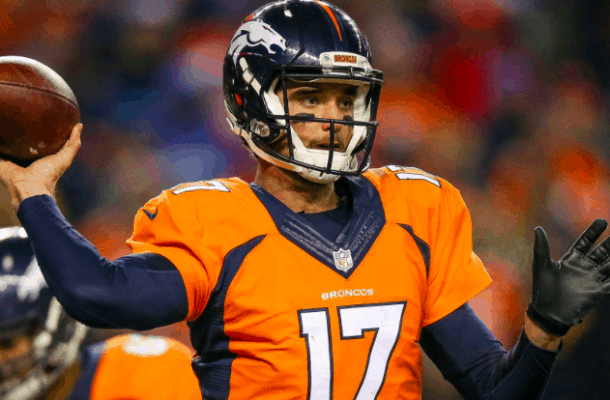 Everyone is talking about the situation going on in Denver right now where QB Brock Osweiler has rejected the Broncos and decided to sign with the Houston Texans instead. This leaves the Broncos with no starting QB due to Peyton Manning's retirement as well as Brock bolting on the club.
Quarterback Brock Osweiler, the assumed heir apparent to Peyton Manning in Denver, instead will sign with the Houston Texans for four years and $72 million, a source told ESPN NFL Insider Adam Schefter.
So what does this mean for the Broncos?

They need to find a QB, and fast. That is obvious. But before I get to that let's talk about Brock.
The Texans way overpaid to get Brock. $18 million guaranteed for a guy who's only started seven games, went 5-2 and was benched in the last. Yes Brock is "young" but here's a dirty secret: he's already played four seasons.
He isn't some rookie that was out there on the waiver wire. This is a guy that the Broncos had for four seasons and decided to stand firm on a certain number when discussing his future. This isn't a guy that John Elway threw the kitchen sink at to sign.
Let him walk I say.
So what about the Broncos?
The Broncos still have the defense and as long as everyone stays healthy they will be in the hunt. Interesting names like Ryan Fitzpatrick and Colin Kaepernick have been thrown out there but as far as I'm concerned the only name that makes sense is: Robert Griffin III.
The Broncos need to look past Mike Shanahan's obvious sabotaging of RG's early career (drafting Kirk Cousins from day 1, playing him to injury, etc.) Just sign the guy and draft a developmental prospect to be the backup and backup ONLY.
Give the keys to RGIII for 16 games for better or worse. The worse that could happen is that he gets you a top draft pick to try again.
Everything will be ok Broncos Country, calm down.