Opinion: Cam Netwon Isn't Black America's QB
Updated: February 6, 2016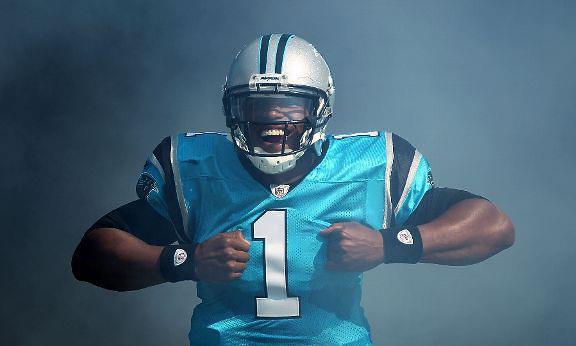 I noticed a disturbing trend going into Super Bowl 50. Something that's become so egregious that is has to be addressed. As a Broncos fan I was looking forward to this game strictly for football reasons, but of course we can't have that. Not in this day and age of twitter and runaway narratives.
I keep hearing people call Cam "Black America's QB."
There's nothing wrong with that in theory. Cam is a nice player. He's very, very good. There is nothing wrong with supporting him. That's great. That's fine. However there is a disturbing wave around Cam and these Panthers that I can no longer ignore.
So here's the problem I have with this. People want to divide this Super Bowl along color lines but this logic has all sorts of holes in it once you really break it down.
For some odd reason I don't remember all these Black people supporting "Black America's QB" when he was accused of the NCAA for taking money to play at Auburn. Or when he was accused of stealing that laptop. Or when he was getting killed in the media for calling himself an NFL Icon before playing one game. But oddly I remember writing articles for Blacksportsonline on these topics when these black people weren't supporting "Black America's QB."
You want to know something else?
Here's a secret no one wants to tell you.

Are you ready?
Lean in…
…get real close…
…closer…
…promise not to tell anyone?
Shhhh… most of the Broncos players are black… shhh….
That's right. The major key these #BlackQBsMatter people forgot to do was a head count. The Broncos roster is almost exclusively African American! So again, how is Cam "Black America's QB" and the Panthers "Black America's team?"
Did you forget two of Carolina's best three players Luke Kuechly and Greg Olsen aren't black? And all three of the Broncos best players (Demariyus Thomas, Von Miller, Aquib Talib) are not only black but from the humble (I.E. hood) beginnings as well?
Exactly. It doesn't make any sense. Just like this narrative doesn't make any sense.
What if I told you there was a black QB who went to back-to-back Superbowls, won one, and dated a R&B singer? Would he be "Black America's QB?"
Well, that exactly happened and that QB isn't considered "Black America's QB." Could it be because he doesn't play to #hashtag narratives and hang out with rappers? Not that there's anything wrong with that, but if you say you're supporting Cam Newton just because he's black then be consistent:
Cam gotta win this ring for Vick, Moon, Cunningham, McNabb, McNair & Culpepper.

— Space Cowboy (@KingTralle) January 26, 2016
So who did Russell Wilson win it for?
And that exactly is my problem with this narrative. It's totally inconsistent, hollow, and divisive just like the #BlackLivesMatter hashtag (because a hashtag is NOT an organization or movement) and the rest of "Black Twitter."
I deplore you #BlackTwitter, please let black Broncos fans have this. Please stop trying to shame us into rooting for Cam Newton. That's totally disrespectful to the (majority) black Broncos players who are some of the best players in the league in their own right.
Just because Cam Newton dances I'm supposed to all of a sudden not want to root for Demarcus Ware, Aquib Talib, TJ Ward, Demariyus Thomas, Ronnie Hillman, CJ Anderson, Von Miller, and Chris Harris Jr?
It just sounds foolish. I won't stand for it.
So for one weekend #BlackTwitter can you please leave your agenda out of something? Let us have this game. Let us enjoy it no matter what happens. Whether Cam Newton dabs his way to a ring or Demariyus Thomas and the Broncos avenge their Super Bowl 48 loss, please just let us have our game.