Broncos Win Super Bowl 50: A Retrospective
Updated: February 9, 2016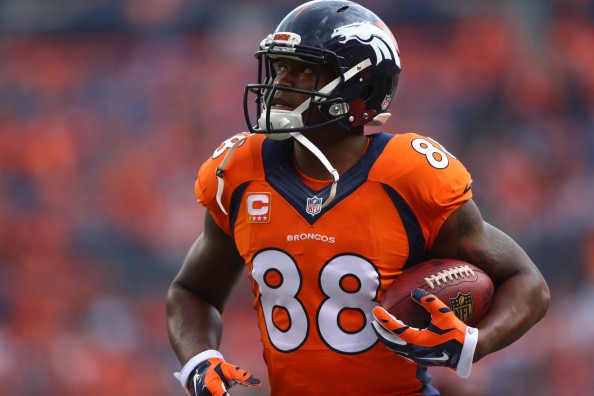 From day one I held nothing back regarding my fan hood. From the moment I registered this domain I put up the MDHQ logo in the classic blue and orange colors- and I never went away from why those are the colors on this blog.
I am a Denver Broncos fan. Through thick and thin, since 1995 I've watched this team through the ups and downs. I can name every mediocre QB that's ever trotted out there for the Broncos. I can tell you exactly where I was for the flu game, the helicopter spin, the Orton to Stokley Hail Mary, the Tebow to Thomas Hail Mary, and every other important moment of the last twenty plus years.
I can tell you exactly how I felt the day I found out the Broncos traded Cutler, or when they traded Brandon Marshall, and when they traded Tim Tebow. I still remember my feelings when Peyton Manning decided to save us after the Tebow years… and I still remember my feeling when I saw Jacoby Jones catch the pass that he who shall not be named whiffed on horribly. To this day I still feel like the Ravens stole our Lombardi.
That's why my reaction watching this game among my friends and Carolina Panther fans was one of utter disbelief. Total apathy. Total numbness.
Through the years of struggle I learned to never trust these Broncos. I learned to expect it all to fall apart right when it looks like they're turning the corner. Right when the Broncos built the NFL's best young offense, it all fell apart. When Peyton came back from neck surgery to bring us to AFC dominance, he who shall not be named whiffed and it all fell apart.
2012 was a disappointment but the Broncos bounced back with a year that was too good to be true. Peyton threw 55 touchdowns and won his fourth MVP award- a league record that still stands. They got back to the Super Bowl but it was again too good to be true.
My friends looked on in total disbelief as I showed no signs of anger as the Broncos fumbled the opening snap of Super Bowl 48. It all fell apart as Cliff Avril dominated the line, Julius Thomas entered the witness protection program and Eric Decker made a few business decisions regarding his free agency. I knew it. It was again too good to be true.
2014 was the year that history will remember as Peyton's last dominant year. He broke the passing touchdowns record but it didn't matter. The Colts had the Broncos number. Andrew Luck was here. The AFC looked as if it was going to be his. The Broncos continued into 2015 with even more players from Super Bowl 48 hitting free agency and finding new homes.
It was all falling apart. Again.
Things fell apart so quickly in 2015 the Broncos decided to end the suffering and bench Peyton Manning. 17 interceptions was enough. He couldn't go out like that. It was tough to watch. The reigns were handed to Brock Osweiler for better or worse. But something special happened week 17 in a must-win game for home field advantage: things didn't fall apart.
Peyton came in the second half of that game versus San Diego and did just enough. He didn't even throw for any touchdowns, but when a play needed to be made he made it. When a crucial chunk of yards was needed Peyton simply made it happen whether it be with his arm or checking to a play to get CJ Anderson a running lane.
When Peyton came back he established something important on this team: buy-in. A quality that I haven't seen on the Broncos since the team won back-to-back titles behind Terrell Davis' legs and gave up trying to beat everyone with John Elway's arm so much.
Buy-in is something funny in life. Buy-in can take any scenario and completely spin it on its head. Buy-in can turn a puny workout warrior into a competitive bodybuilder. Buy-in can take a man with $7 and a dream and turn him into The Rock. Buy-in can take a guy with average looks, average money and get him a super model wife. Buy-in can take a quarterback who's incapable of beating defenses with his arm and make him an effective game manager overnight. Buy-in can take a team that's GOOD and make them GREAT.
I say all that to say this: this Broncos defense did not win the Super Bowl because of talent alone. They won because they had talent and BUY-IN.
Peyton Manning did the one most important thing he had to do all season long. He gave up on the fast-paced, no huddle, pass heavy offense and he BOUGHT IN to Gary Kubiak's run game.
History will never show that Peyton Manning was benched in favor of Brock Osweiler for FIVE games. History will never show that Gary Kubiak went against the same decision and inserted Peyton Manning in the final half of the regular season, down by 14, with home field advantage on the line. History will never show that Peyton didn't even throw a touchdown in that crucial comeback victory. History will never show that Peyton was falling over himself throwing flutter passes throughout the Broncos entire playoff run.
Rings are another funny thing in sports. They can highlight the good, and they can bury the bad. This ring erased the "loser" narrative from Peyton's career completely. He's now 2-2 in the big game which is beyond respectable. Its not that history will ever remember that he won his first ring in a rainstorm versus Rex Grossman's Bears or that he threw for less than 200 yards versus Cam's Panthers.
Whether Peyton rides off to the Hall of Fame or comes back to play with another team I can say I finally have faith in the future of this franchise. John Elway has created an environment of buy-in. There is no need to panic when big name players leave the team. There was no need to panic when coaches leave the team. John has a plan. The players bought into John's new coach. They bought into that coach's plan. And that coach's plan won Super Bowl 50 with who history will never remember as the worst starting quarterback in the league at the time.
More players and coaches will leave this team but the culture is cemented. These players believe in the plan.
And I thank them. Thank you for buying in.