Eagles Refuse to Pay Sam Bradford's Crazy Salary Demand
Updated: January 20, 2016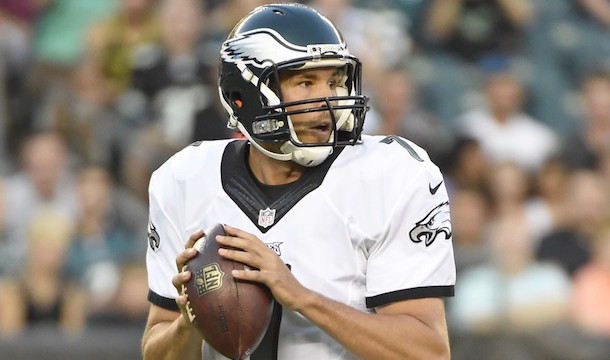 The Eagles are no longer under Chip Kelly's personnel control but that may not necessarily be a bad thing. Apparently when Kelly brought in Sam Bradford from St. Louis the thought was they'd eventually agree on an extension to keep the quarterback in Philly.
That assumption was wrong. Very wrong. Sam Bradford wants to make more money than EVERY other QB in the league:

When the Eagles traded for quarterback Sam Bradford last offseason, they did so without extending him, a move many felt was risky.

Well, now we might know why.

According to ESPN's Jim Trotter, Bradford's agent Tom Condon asked the Eagles for $25 million a year last offseason when the two sides were discussing a contract extension.

It wasn't reported how many years Bradford's agent was seeking.

Trotter mentions that then-head coach Chip Kelly, who also controlled the personnel department, wasn't willing to pay Bradford that amount, which is why the two sides never struck a deal.

And given the pay structure of NFL quarterbacks, it's understandable. Green Bay Packers quarterback Aaron Rodgers draws the highest average annual salary at $22 million, with the likes of Seahawks' Russell Wilson, Steelers' Ben Roethlisberger and Giants' Eli Manning — who have all earned Super Bowl titles, by the way — falling in behind that.

(Patriots' Tom Brady isn't among the top-paid quarterbacks only because of his generosity.)

Bradford's first season was average at best, as he finished with 19 touchdowns in 14 games to go with 3,725 yards and 14 interceptions. The Eagles finished 7-9 and missed the playoffs, which led the firing of Kelly.

Bradford's new head coach, Doug Pederson, sounded open to the idea of bringing the quarterback back.

"I think Sam is a top-notch quarterback," Pederson said. "He would fit perfectly in the system we're going to bring here."
$25 mil a year can get you a lot of talent and the Eagles sure could use it thanks to Kelly purging the roster.  With their draft pick the Eagles could easily grab or even trade up a little bit to secure Jared Goff or Paxton Lynch.  Financially paying Bradford this money just doesn't make sense, but if he can get that money then all power to him.
A great man once said, "In life you never get what you deserve, you get what you can negotiate."