Cardale Jones May Transfer From Ohio State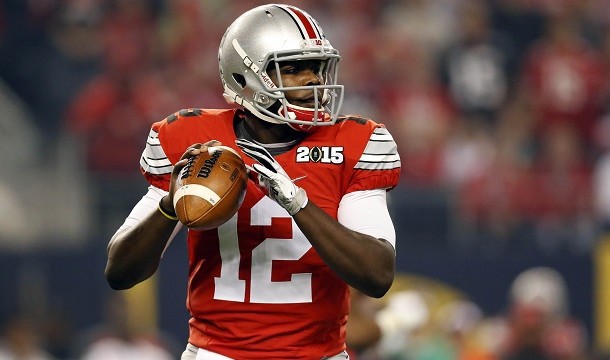 I don't know why he chose to come back to Ohio State in the first place but OSU QB Cardale Jones seems to be having second thoughts on that decision. According to reports Jones is ready to explore his options as a graduate transfer. This would allow Jones another year to show NFL scouts what he's made of and improve his draft position.
Told situation for QB Cardale Jones is fluid. Might go pro. Might graduate and then transfer to play 1 more year in college, improve stock

— Jason Cole (@JasonColeBR) January 1, 2016
In my opinion Jones has nothing left to prove. He best attributes are physical and teams in the league already know what he brings to the table. Its just going to take that one coach who thinks they can mold this big block of clay into a consistent professional quarterback.
If Cardale Jones comes out this year he'd be a fringe first rounder off potential and physical talent alone. I could really see someone trading back into the first for him.
There is nothing left to prove Cardale, take those talents to the NFL.