Week 13 Cowboys Mock Draft
Updated: December 7, 2015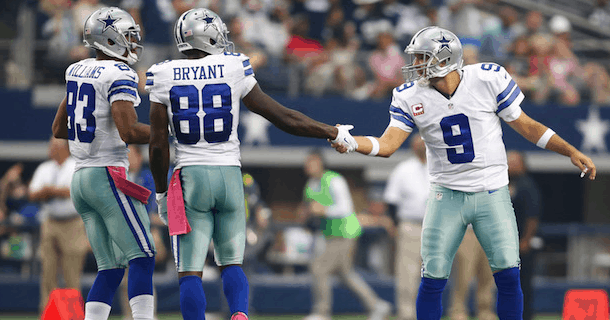 The Cowboys are 3-8 and things aren't getting any better. It is what it is Dallas fans. At least we have Dez Bryant and his amazing catches to keep everyone entertained for whatever is left of Dallas' season.
Whether the Cowboys will retain keep players like Greg Hardy is yet to be seen. Hate him or love him but he made a big difference up front for the Cowboys and keeping him would be a solid football decision.
Maybe Dallas drafts a replacement for Hardy. Maybe they draft the next Romo. Maybe they get some reinforcements alongside Dez.
Our draft community member Cowboysfan1993 has some great projections in his latest Cowboys mock draft for 2016.
Check out his picks below.
1. Cowboys: Jalen Ramsey S Florida State
Round 1: Dallas decides to stay put in this mock draft and take Jalen Ramsey. Some will question why, when Dallas already has a FS in Byron Jones and SS is a little rich. Ramsey is a special talent. 6'1″ 205 lbs. He is excellent in his back pedal. He has great instincts and anticipation, seeing the whole field and using his elite speed to get to the ball faster than the play can get going. He is a playmaker, getting sacks, INT, fumbles you name it.
If not for him FSU doesn't go undefeated again last year. He is good against the run. As I said he has great anticipation on blitzes even if he doesn't hit home, a QB is in trouble as Ramsey will simply bat the ball down. He has played CB, LB, and S at FSU, but is best projected to the FS role in the NFL, although SS is also not out of his ability. He played CB, isn't nearly as good on the outside, struggles to play man and it's easier for WR to get separation on shorter or underneath routes.
He is far more skilled in coverage than against the run, sometimes he will dance around instead of attacking. Isn't all that strong or big, he may be tall, but he's lanky and can be washed out in the run game. He can pair with Byron Jones to form one of the youngest and best S tandems. He will likely play SS with Dallas.
2. Cowboys: Jarran Reed DT Alabama
Round 2: Dallas has needed DT for a long time. Dallas tends to get undersized guys such as Ratliff to play the NT position, and that simply won't fly. Dallas struggles to get off the field on short yardage, because they don't have the beef to clog running lanes and allow LB a free go at the RB. Getting a big bodied guy will surely help Dallas pass rush as well.
Reed is an immovable force at DT at 6'3″ 315 lbs. he more than holds up in the ground game. He is able to work his way down the line making stretch plays even more difficult, teams tend to try to run away from him. Reed doesn't get pushed back, he will never be a player who will lead his team in sacks instead he will be a consistent force and a bane to the OC trying to run the football.
Click HERE for the rest of the Cowboys Draft Picks!