Chip Kelly Got Fired: Here are the Best Memes
Updated: December 30, 2015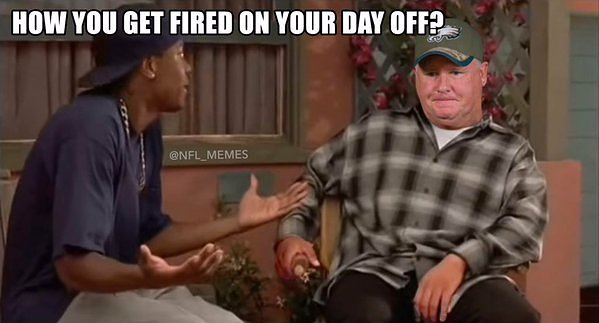 Eagles coach Chip Kelly was finally served his walking papers with one week left on the season. There are a multitude of rumors running wild but we will save that speculation until the second shoe officially drops on this story. From everything behind the scenes it sounds like Chip may have done something very serious to hurt the prestige of the franchise.
Allegedly.
Anyways, here is the Eagles official statement on the matter:

Today, Jeffrey Lurie, Chairman and CEO of the Philadelphia Eagles, released Head Coach Chip Kelly.

"We appreciate all the contributions that Chip Kelly made and wish him every success going forward," said Lurie.

Coach Pat Shurmur will be interim head coach for Sunday's game against the New York Giants.
Chip kind of deserved it after he failed to cut Riley Cooper following his racist tirade and cut beloved players such as Desean Jackson for having "gangster" friends. He also traded a second round pick for Sam Bradford and replaced Jeremy Maclin with the ProFootballFocus dead-last ranked WR Nelson Agholor.
Alas, here are the best memes:

FLIP THE PAGE FOR THE REST!