Washington Redskins 2016 Mock Draft IV
Updated: November 3, 2015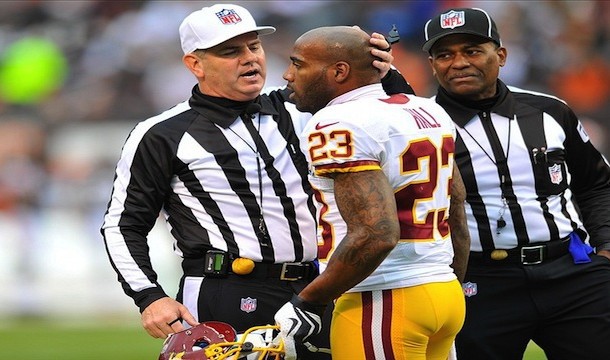 The Redskins went into the bye week on a high, completing an epic comeback victory over the Tampa Bay Buccaneers. Kirk Cousins looked the part of team leader and even engaged the media on his way to the locker room after the game.
#YOULIKETHAT
With the Skins finding a little groove and Desean Jackson coming back in week 9, can they win this division? That is yet to be seen but this team still isn't perfect. This off-season there are some glaring needs that need to be addressed.
Thankfully DraftP from our draft community has broken it down in his new 2016 Redskins mock draft.
Picks below:
Heading into the Redskins bye week the team find themselves with a respectable 3-4 record and a chance to make a run at a playoff spot. There is a lot of pressure for Gruden and company to right the wrongs and come out of this break a more competitive team. We'll see… Being this is the week of Halloween I wanted to shake up what I have been doing and throw in a couple of curveballs.

TEAM NEEDS: QB, TE, FS, SS, CB, ILB, DL
1. Redskins: Ezekiel Elliott RB Ohio State
Rd. 1, pick 13. The Redskins select RB Ezekiel Elliott 6-1, 225 lbs. This is the curveball I was referring to earlier in my introduction. The Redskins running game has dropped considerably since the beginning of the season and that doesn't bode well for Alfred Morris who is in a contract year. If the Redskins let him walk this move might not be as big of a surprise as many might think it is. Elliott can help the sputtering Redskins offense in a lot of ways. First off he is an exception runner with and nice combination of size and speed. He also has pretty good hands and teams do not want this guy to slip into the secondary unchecked.
2. Redskins: Darian Thompson S Boise State
Rd. 2, pick 44. FS Darian Thompson 6-2, 210 lbs. from Boise St. The Redskins need help in their defensive secondary and Thompson is one of the top young safeties in the country. Thompson has excellent ball hawking skills, plus he can also come up and lay the wood in the run game. The Redskins like having the ability to interchange their safeties and Thompson fits into that mold nicely.
3. Redskins: Kevin Hogan QB Stanford
Rd. 3, pick 75. The Redskins select Kevin Hogan 6-4, 228 lbs. The Redskins need to bring in a QB of the future and Hogan has the size, arm strength and mobility NFL teams want in a developmental player. Hogan appears all over the place on draft boards so it is a bit hard to predict where he will fall in a draft. I feel comfortable he'll be gone by the 4th round.
4. Redskins: Nick Vannett TE Ohio State
Rd. 4, pick 112. TE Nick Vannett 6-6, 260 lbs. The Redskins have a big need for a blocking TE and it might be a bit of a reach thinking that Vannett will fall to the 4th round but the need and fit are there. Vannett is a very capable but under used receiver with the very run oriented Ohio St. Buckeyes.
Click here for the rest of this draft!
More picks after the jump.