Ezekiel Elliot & Cardale Jones Declare for NFL Minutes After Ohio State Loss
Updated: November 21, 2015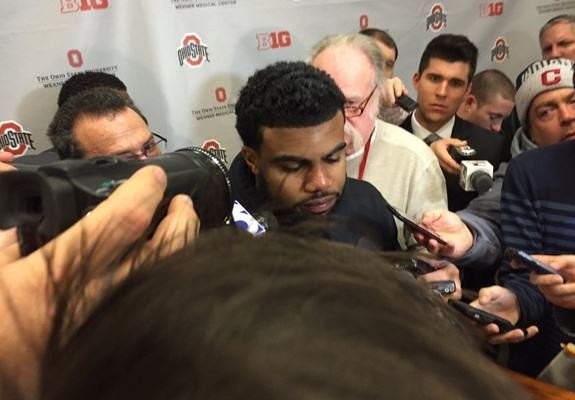 Ohio State just lost a 17-14 heart-breaker at home to Michigan State, a game in which the Buckeyes needed to extend their 23 game win streak and compete for another National Title.
Regardless of the rain, wind, etc. conditions Ohio State fans and players alike are baffled at the lack of aggression in the play-calling down the stretch. Heisman candidate and superstar back Ezekiel Elliot has already blown some steam off and announced he's going pro within minutes of losing the game.
Elliot finished the game with less than 40 rushing yards and is out:
Ezekiel Elliott said he will not be returning to OSU next year.

— Bill Rabinowitz (@brdispatch) November 22, 2015
Elliott: "We weren't put in position to win this game." Said he lobbied Meyer on sideline for calls and did not get them.

— Pat Forde (@YahooForde) November 22, 2015
Elliott: "I think I do deserve more than 11 carries. … I don't know what was going on."

— Pat Forde (@YahooForde) November 22, 2015
There are a lot of NFL teams that can use him. No one is disappointed in this decision outside of Colombus, Ohio.
And then there was Cardale Jones delivering this bomb on twitter:
Last time walking down them steps and into The Shoe, wish the results were different tho pic.twitter.com/BalXhHTOS7

— Cardale Jones (@CJ12_) November 22, 2015
Looks like someone else won't be back next year.