Dallas Cowboys 2016 Mock Draft: Week 8 Edition
Updated: November 1, 2015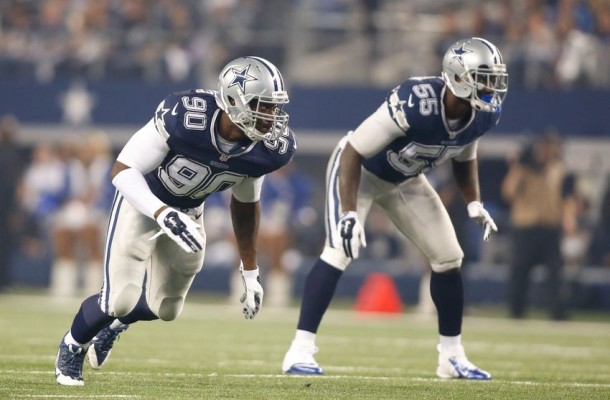 The Cowboys are coming off yet another rough week. With Tony Romo's absence still being felt and Matt Cassel unable to fill it, the season is getting dangerously close to being lost completely.
Good news is that Romo and Dez Bryant will be back soon. Bad news is that the Cowboys are already 2-4. If the 2015 season is lost then Jerry Jones will be forced to reload going into the 2016 draft. What players should the Cowboys target?
Thankfully Cowboysfan is back with yet another 2016 Cowboys mock draft:
The Cowboys have issues on this team. However it's more due to the QB more so than anything else. Dallas will probably earn a top 10 pick at the rate they are going despite being a talented football team. Dallas will have a lot of decisions to make in FA. Dallas will find a way to resign Greg Hardy, and extend Morris Claiborne.
1. Cowboys: Vernon Hargreaves III CB Florida
Round 1: The Cowboys actually have been playing good defense at least statistically believe it or not. They currently rank 8th in total defense. Most of the yards Dallas has given up has been in the second half when they are winded because the Cowboys can't move the football. Carr has been a liability since he came to Dallas. As of right now he is the worst CB on the team, while Claiborne has stepped his play up recently going up against Julio Jones and Odell Beckham, and single handedly shut down Brandon Cooks of the Saints. And Julio had a good day against Dallas, but Claiborne wasn't being targeted. I feel Dallas will cut ties with Carr this offseason and resign or extend Claiborne. With that said, Dallas cannot pass up the chance to get Hargreaves. Ramsey is more physically gifted and is a bigger playmaker than Hargreaves. But Hargreaves is more in the mold of Revis than Ramsey. Hargreaves does well in zone and man coverage. He can also play off man as well. He knows how to time his jumps to swat passes away. He possesses fluid hips to turn and stay on the receiver. He does well reading routes and figuring out the best way to attack the area. He does a good job in run support and does a good job blitzing and tackling as well. His size is a limitation at only 5'11" around 195. However, it's serviceable. Remember guys like Davis, Haden, and Revis are all around the same size and are considered to be the best CB in the NFL. He doesn't posses elite speed either. While he is good in coverage, his press coverage the more I have seen him, starts to concern me. He can get better at this, but he doesn't look strong enough nor is his technique in that area good enough. At times he's too aggressive.
2. Cowboys: Jarran Reed DT Alabama
Round 2: The Cowboys D line has been fine actually, but Dallas in order to take that next step defensively need a true NT on that front. Dallas doesn't have anyone who can occupy blockers at all. They are all primarily pass rushers. Dallas does a good job stopping the run, but on short yardage situations they get manhandled, because there is no threat there to occupy two blockers. Jarran Reed is a big guy at 6'3″ 315 lbs. He can actually add weight. He muddy's up the middle of the defense, he is consistently double teamed, but it's tough to control him at the line of scrimmage because he is capable of still doing damage. RB have to cut it back outside to get any positive gain. He's more consistent of a player than teammate A'Shawn Robinson. He's also a better pass rusher. He isn't a pass rushing DT, but he has ability to improve there, but don't ever confuse him with a 9 or more sack guy. He's also strong, but needs to add strength. He's surprisingly quick as well. He plays with great technique for a young college player. He is a violent tackler. He isn't much of a pass rusher, needs to get better here. Doesn't always break down. I feel the only reasons Reed slips to the second is due to lack of pass rush, and less media hype.
3. Cowboys: Devontae Booker RB Utah
Round 3: Despite the RB not being good for Dallas, Dallas currently ranks 7th in rushing yards per game. And 9th in total offense. Randle doesn't have the ability to read blocks and hit the right hole. McFadden had a coming out party against the Giants, but he hasn't been consistent. The fact that they are ranked 7th with the issues they have, I feel Dallas O line is good enough to make a solid RB good. They go with Booker here in the 3rd round. Booker is 5'11" 215 lbs. He runs stronger than his size as well. He runs low with great leg drive. He makes strong cuts which is a decent part of the Cowboys offense. He also plays patiently. He runs down hill and hits top gear quickly. He looks to go through defenders rather than dance around them. He doesn't have great speed though, but he is the power runner Dallas needs. Needs to do a better job as a pass protector, he doesn't do well in this area in any aspect. He has nice hands for the position allowing him to be a solid receiver out of the backfield.
4. Cowboys: Carson Wentz QB North Dakota
Round 4: This is Carson Wentz. The Cowboys currently rank 8th in total defense, and 9th in total offense. That alone should tell you they should be better than 2-4. The QB has been the issue thus far. Dallas has yet to develop a QB to eventually replace Romo and they had better do it this draft. Wentz is physically gifted at 6'6″ 230 lbs. He also has good speed for the QB position, he will use his body to gain extra yards. He has a strong arm, and plays in a pro style offense utilizing a lot of PA. He isn't afraid to check down or go deep. He can make almost every throw. He will stare down his receivers and predetermine where he will go with the football. He also doesn't do well throwing the ball on the move. You like his speed and ability to run, but he is too willing to lower his shoulder and gain extra yardage, that will lead to injuries in the NFL.