Washington Redskins 2016 Mock Draft: Week 6 Picks
Updated: October 18, 2015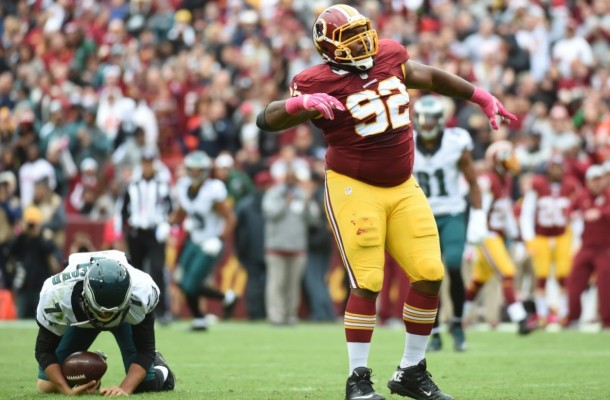 The Redskins are a nice surprise in the NFC East. Once thought of as a doormat, the Skins have rallied around Kirk Cousins and a better-than-expected defense to become a nuisance match up for any squad.
Going into 2016 the Skins are going to need some help to really bolster this team to contend in the NFC East. What will they do in the 2016 draft to upgrade this roster? We may have the answers.
Cowboysfan has again blessed us with his projections, this time in a 2016 Redskins mock.
Check out the picks below:
Seeing as how the Redskins are the worst NFC East in the Power Rankings, the Redskins will be first in my NFC East draft.
1. Redskins: Kendall Fuller CB Virginia Tech
Seeing the power rankings, the Redskins are the worst in the NFC East this may not be the case by the end of the year. The Redskins have a nice defensive front, and Chris Culliver is a nice CB for them. However, the Skins still need a CB. They go with Fuller, he is the best one available. He is 6'0″ just under 200 pounds, so he needs to put on weight. But he has the size that teams like. He excels in man coverage, but can play off coverage as well. He doesn't have blazing elite speed, but it's more than serviceable. He tackles, well, but is more of a wrap up bring down kind of tackler as opposed to simply punishing guys. He needs to do a better job in run defense, sometimes he avoids blockers instead of taking them on. He tore his meniscus, so he could fall to the second round, if he does, the Skins will probably go a different route.
2. Redskins: Darron Lee OLB Ohio State
The Skins would have liked to draft a S here, but Lee is too good to pass up. MLB is the lone weak point in the Redskins front 7, so getting a MLB is a need for them. Darron Lee is an athletic LB with the ability to cover slot WR. He is 6'1″ 230 pounds, so he needs to put on weight. He compares favorably to Ryan Shazier, slightly less athletic, but better instincts. He tackles well, but sometimes doesn't wrap up.
3. Redskins: Landon Turner OG North Carolina
Round 3: The Skins also have O line issues, Trent Williams is the only good player on that line right now. Which leads me to believe that the Skins might be one of the front runners for Ronald Leary who is currently on the Dallas Cowboys. The Skins still need to draft a good O line though. Landon Turner would be the best one available at this point. He is a phone booth blocker. He has a thick lower body and core strength to latch onto defenders and hold them in place. He has great patience. He isn't rangy meaning he won't be seen getting to the second level much, and doesn't have hip flexibility as well.
More picks below:
Click Here for the rest of this draft!
Draft continues after the jump.