NY Giants Updated 2016 Mock Draft Picks
Updated: October 21, 2015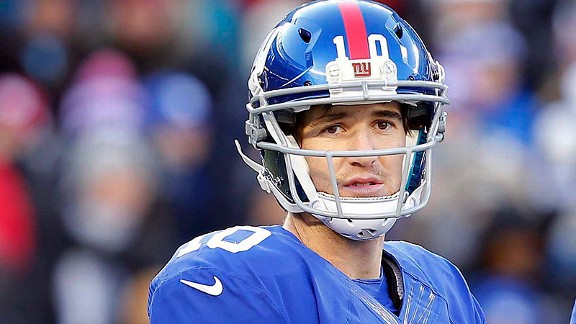 The Giants suffered a pretty bad loss on Monday Night Football to the Philadelphia Eagles in which the team looked like it was totally out of sync. On the other hand, Chip's Eagles may finally be getting it together after all.
One can say that the NFC East is going to be a roller-coaster ride if nothing else. It doesn't look like there will be a clear cut winner of this division until week 17!
With that said, what do the Giants need to do to get back on track? Cowboysfan has provided us with his idea in a new 2016 Giants mock draft.
Check out the picks below.
The Giants currently sit atop the NFC East. So they will be drafting last in the NFC East.
1. Giants: Emmanuel Ogbah DE Oklahoma State
Round 1: The Giants primary concern should be improving their pass rush. The Giants in their last two Superbowl victories were carried by the pass rush, not Eli Manning's arm. So improving this area is a must if they wish to see another trophy under Eli Manning. Ogbah already looks like an NFL player at 6'4″ 275 lbs. He is a power player more so than a finesse one. He does well as a pass rusher, but needs a little work defending the run as he gets sucked in on PA. He is a raw prospect. He has shown that he can drop in coverage as well.
2. Giants: Tyler Johnstone OT Oregon
Round 2: The Giants O line issues are well documented and still the Giants haven't found a good O line to protect Eli or a generate holes for the run game. While I do believe Flowers will be a good OT one day this year as supposed to see him on the right side. Johnstone could be an anchor on the left side to slide Flowers over to the right and help create some stability along the O line. He is very athletic able to get to the second level and does well on tosses and stretch plays. More surprising however is how well he blends that athleticism with a strong core balance to maintain leverage and not get knocked back. He also doesn't look to just latch on and carry defenders, he looks to drive opponents. He seems determined to prove he isn't a finesse player. He doesn't have many weaknesses other than that he tore his ACL in 2013.
3. Giants: Sheldon Day DT Notre Dame
Round 3: The Giants won their Superbowls, they didn't have any huge overpowering DT. They had smaller guys that played in a rotation and DE that could move inside to provide pass rush. Sheldon Day is one of those kind of player. The Giants have Jonathan Hankins who is a monster in the middle of their defense. But he can't do it alone. They need a pass rusher next to him. Day has a great first step and get off anticipating the snap. He also has a relentless motor, and does a good job of being calm and not getting caught off guard. However durability is a question. Also he isn't big and won't be an anchor in the run game. He is one of the best interior disruptors in the nation.
We arent done!!
Click here for the rest of the picks.
More picks after the jump.