2016 Dallas Cowboys Mock – Week 4 Edition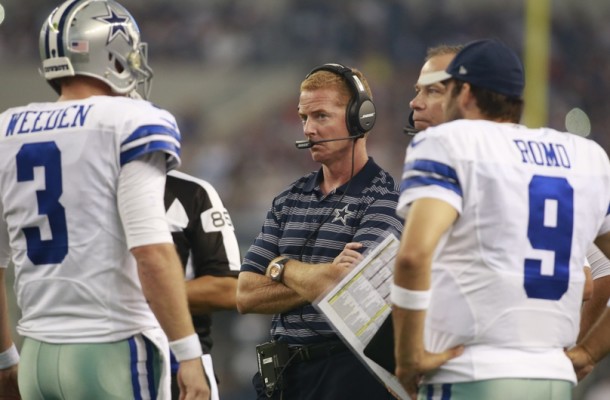 We are headed into week four of the NFL season. The Cowboys are sitting at 2-2 right now, how will they end the season? No one knows but we do know that Dallas will need some help in key areas to progress into 2016 and beyond.
Our draft community has a pretty good idea where Dallas should be looking, as shown in Cowboysfan's latest projections.
The Cowboys as of right now aren't playing well with Brandon Weeden. They pick up Austin Davis who has a similar playing style to Romo. They also allow Greg Hardy to walk in FA and pickup CB Josh Norman who is currently on the Panthers to replace Carr should they cut him. Dallas I feel if they continue to start Weeden will have a high draft pick somewhere around 8. However, with most of the best players gone, Dallas trades back to 16-17 to gain the team's 1st round pick, second round pick, and 4th round picks this year, and a fourth next year.
Check out Cowboysfan's awesome 2016 Cowboys Mock Draft below:
1. Cowboys: Ezekiel Elliott RB Ohio State
The Cowboys RB have not been bad, it's more so the playcalling, however I don't think Garrett likes the run to pass ratio to the point where Dallas is almost passing 70 percent of the time. Combine that with McFadden's injury history, and Randle's stupidity when handling the football and in media sessions, it's time for Dallas to get that work horse back they need. Elliott is without a doubt the consensus best RB in the upcoming draft. He is a monster. While there may be bigger needs than a RB, the fact that not only does the best player at his position fall into your lap, he is also a player who is or should be a top ten pick, but falls due to other needs and the lack of interest in using a high draft pick on a RB. Elliott is an established runner, with good vision seeing the football field. He runs hard, he is a big RB with speed. He is difficult to tackle if you try to arm tackle him. He is great at the cut back lane, and can play in a zone or power blocking scheme. He is 6'0″ 230 pounds probably closer to 6'1″. He has great acceleration stopping on a dime and gaining top speed in the same amount of time. He has great leg drive working to gain extra yards. Impeccable balance to stay on his feet as well. You had better make sure to bring him down, because not only does he have power, he has balance as well. Before this year I was concerned about Elliott's ability to be a receiver and blocker, and those concerns have been wiped clean. He possesses soft hands as a receiver, and the Buckeyes even have him running actual routes now at times. As a blocker, he is more than willing and has the strength to take on LB and S. Rarely fumbles as well. Even though he can block, the mental aspect isn't quite there, but he is further along than last years top ten pick in Gurley. Behind the Dallas offensive line, and Romo throwing the football, they get a back who will be better than Murray and will make life easier for a young QB going forward.
2. Cowboys: Darron Lee OLB Ohio State
The Cowboys have a lot of depth at LB. They have a promising rookie in Wilson and a young Anthony Hitchens. However McClain will be a FA, but I fell Dallas is through with dealing with McClain immature behavior, and as good as Sean Lee is, he can't stay healthy. He will play against New England, but he suffered a concussion against the Saints. Darron Lee would be a good option to add to the LB group. You can't have too many. Lee is 6'1″ 235 which is slightly undersized, add that to the fact that he's got a lanky frame, he could see his draft stock take a hit, similar to Lavonte David. Dallas is drafting at 8 in the second round so this pick is possible. It's hard to find LB who can cover TE, more difficult is to find a LB capable of covering slot WR. He is aggressive in the way he gets off blocks. He actually plays similar to a safety in how much range he has the ability to close space very quickly. He is a sound tackler, and will normally take the right angles. He has good route recognition as well. As for weaknesses, is that he can over pursue, he is slight of build meaning he needs to spend time in the weight room. He will draw a lot of comparisons to Ryan Shazier, he isn't as fast, but he's better in the instincts department. Dallas wanted Shazier the year he came out, and if he's on the board in the second round Dallas won't hesitate to pull the trigger.
3. Cowboys: Josh Doctson WR TCU
The Cowboys have one of the elite WR in the NFL in Dez Bryant and one of the better slot receivers in Beasley. While Williams is good, I don't feel he is consistent enough to keep around since his contract is up after next year, and it's a good idea to get his replacement. After the top 3 receivers Dallas has zero depth. Street is a disappointment, Whitehead, has not been any better. Dallas will probably try to go WR early and I feel that the best one would be Doctson. He is a pro at using his body to shield defenders away from the ball. He uses excellent timing on contested catches to jump. He is excellent in tracking the ball. He possesses a large catching radius, and will catch most of the passes that go within that window. He needs work in the route running department but his overall determination and ability will allow him to have success early in his career. He isn't the fastest WR either, similar speed to a guy like Bryant might be a little slower. He's got good height at 6'2″, but he is listed at 195 pounds which is way too light and he looks light to begin with. He needs to fill out his frame as CB in the NFL might give him a hard time getting off the line. He compares very much to Jordan Matthews.
4. Cowboys: A'Shawn Robinson DT Alabama
This is not A'Shawn Robinson, but his teammate Jarron Reed. The Cowboys need a 1 tech currently they do not have one. Hayden is average at best and his contract is up after this year. Hayden does not have the awareness or ability to shed blocks and make tackles. Dallas for a while under Marinelli have wanted to get a younger more athletic DT to replace Hayden but none have been able to do so. The Cowboys passed on Washington in round 2 in favor of his teammate Lee, but they get their guy in round 3. Jarran Reed isn't as well known has his teammate Robinson, but it doesn't mean he isn't good. He plays with power and great anticipation to follow blocks and make tackles on the ball carrier. He has great disruptive ability causing a huge mess up the middle that RB are forced to bounce the ball outside. As a tackler he isn't like most DT, who simply look to bring guys down. He is vicious not only bringing a ball carrier down, but also punishing them as well. He has excellent form. He will not be much of a pass rusher, but will help free up Crawford and really help on those short yardage situations as well.
We got more!
Click here for rounds 5-7
More picks after the jump