Will Tim Tebow Make the Eagles Roster?
Updated: September 3, 2015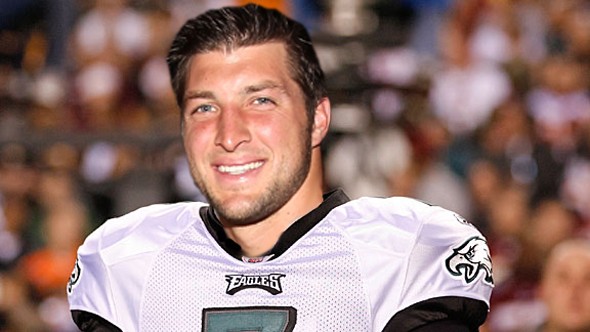 Tim Tebow is still trying to find his way back on the road to NFL success. Now with the Philadelphia Eagles, Tebow may have found a home in Chip Kelly's offense. While he still has the same mechanical issues (although greatly improved) Tebow just isn't a fluid quarterback. Naturally, he's better at improving but the Eagles offense just may be the right fit for him after all.
Tebow seemed to have found his grove in the final preseason game versus the Jets (another former Tebow team.)
Tebow played very well tonight against the Jets, completing 11 of 17 passes for 189 yards, with two touchdowns and one interception, plus 32 yards rushing on four carries. Matt Barkley, who started tonight's game, did not play nearly as well, going just 4-for-9 for 45 yards, with no touchdowns and one interception. Barkley did not run the ball.

However, it's unclear whether tonight's preseason game will be the difference. Barkley has been ahead of Tebow on the depth chart to date, and Tebow still has flaws as a passer.
It's looking like whether or not Tim makes the Eagles someone will have a roster spot for him. The longer, riskier, one point extra point makes Tim a nice option to have for two point conversions.