#TebowTime is Over: Tim Tebow Released From Eagles
Updated: September 5, 2015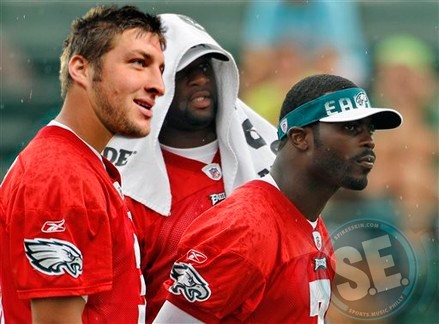 And like that, Tim Tebow is again out of the NFL.
The Philadelphia Eagles have announced they are releasing the former University of Florida quarterback as they cut down to 53 for opening night:
"Tim's really progressed but we didn't feel like he was good enough to be the three right now," Kelly said. "He just needs to get out there and get more reps."
Kind of harsh words from Chip. "Not good enough," is something I would have been killed for describing Tebow as when he was with the Broncos but now we can all openly say the guy isn't good and not get attacked.
It's funny how the Tebowmanics seemed to shrink drastically in numbers over the years. And that's wrong. If you're a fan of the guy be a fan of the guy whether he is in the league, preaching a sermon, or commentating on a college football game. All this fair weather stuff is really lame if you ask me.
For the real Tebowmanics I have something special for you.
Just click play below:

#Tebowtime