Rockets Unveil New Gray & Black Alternate Uniforms
Updated: September 15, 2015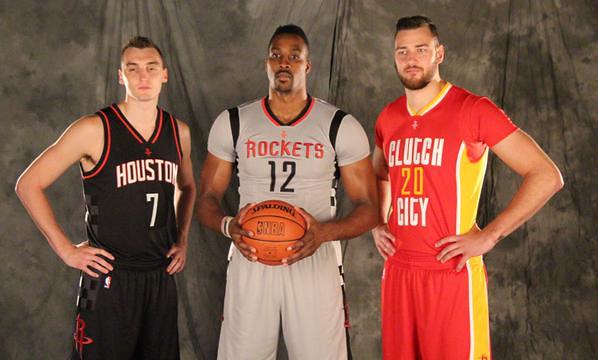 The Houston Rockets are looking for that elusive ring under the James Harden era. If they have anything to say about it, that ring will be coming to H Town sooner rather than later. The team has ramped up a new campaign titled "#Pursuit" along with the full blown social media and PR.
Part of the pursuit campaign are new black and gray uniforms which will be part of the Rockets' alternates.
Let's break these down.
Black Away Uniforms with White Numbers
These are pretty cool actually. I'm not a fan of the checkerboard and I have no clue if it has any Houston significance. These should sell well as they match a lot of shoes.
Gray Away/Home Uniforms with Black Numbers
These are…. interesting. I think Dwight Howard's face in the photo says it all. Again, the checkerboard is there only more pronounced with white checks. What are those black lines for on the shoulders? Not to mention the God awful sleeves.
They may look cool in a video game but in real life…. ehh….
Red Away Uniforms with Yellow Numbers
Again, why do they continue to make this jersey without white numbers?!!! It's like it makes too much sense just to do the right thing. The bold "CLUTCH CITY" text looks dumb too. Yeah, that will show them you mean business. We'll splatter the word CLUTCH on our chests.
All in all these are pretty bad I won't lie, but the black jerseys are cool. The Rockets in general have just a bad collection of uniforms.
It might be time for the Rockets to just ditch their whole current brand and relaunch.
The Rockets revealed new 'Clutch City' and 'Space City' alternate uniforms. Yay or nay? http://t.co/AcNTu3MBKZ pic.twitter.com/UxBM54vbOQ

— theScore (@theScore) September 16, 2015