Giants to Sign Aldon Smith?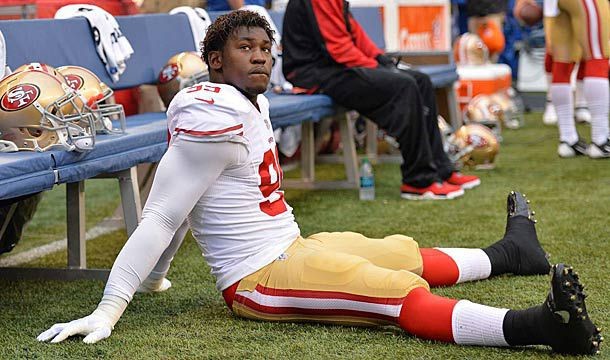 Three days ago Aldon Smith hit a parked car while legally over the limit. He was charged with DUI and quickly released from his contract with the San Francisco 49ers. By the end of this week, he may have a new team.
Even with the DUI arrests there are teams looking at Smith because of his pure talent. One of those teams is the New York Giants, who need a pass rusher because their current one…. yeah.
You could say the Giants are looking for a hand on defense (see what I did there.)
Let's wait and see if the rumors are true and the Giants actually sign Aldon Smith:
Aldon Smith is still apparently a hot property in the NFL, despite the linebacker's recent troubles.

Smith, who was released by the 49ers Friday after being arrested that morning, is apparently being eyed by several teams, according to Jordan Schultz of Huffington Post. Schultz specifically mentioned the New York Giants as having interest.

-Sporting News
Giants in desperate need of a pass rusher, given JPP is out. Defense needs someone to really set the edge. Aldon Smith does precisely that.

— Jordan Schultz (@Schultz_Report) August 10, 2015