Really Early 2016 Redskins Mock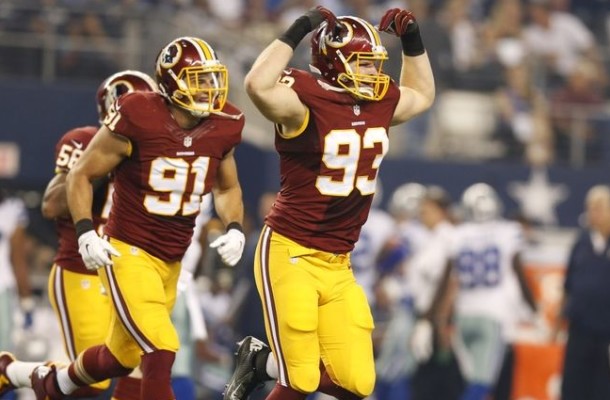 Here at MDHQ our members are already working on getting a feel for the 2016 draft. Here is a new mock from HRomo for the Washington Redskins.
1. Shawn Oakman DE Baylor
Rd. 1 Shawn Oakman is a physical freak that will come in and have an immediate impact on the Redskins Defensive line and should be considered Jason Hatchers heir apparent.
2. ILB/OLB Scooby Wright of Arizona
Rd 2 This is a high level pass rusher that is tough and tenacious.
3. QB Cardale Jones of Ohio State
Rd. 3 Jones has a lot of potential as a pocket passer but his stock will drop if he doesn't become Ohio States starter this season. He has breakout potential…
4. C Nick Martin of Notre Dame
Rd. 4 Martin is the younger brother of Cowboys Pro Bowler Zack Martin. Nick has similar skill set on a smaller frame. If he adds weight he could play Guard as well.
5. OT Tyler Marz of Wisconsin
Rd. 5 Marz at this point and time is best suited as a RT or G in the pros.
6. TE Nick Vannett of Ohio State
Rd. 6 Vannett is a steady run blocker that has shown some pass catching ability. Breakout potential…
7. NT Chris Carter of Ohio State
Rd. 7 Carter is a mountain of a man that can come in and compete for playing time.
8. FB Quayvon Hicks of Georgia
Rd. 7 Hicks opened hole for Todd Gurley last year. He is a heavy hitting lead blocker.