Justise Winslow: The #1 Overall Draft Pick?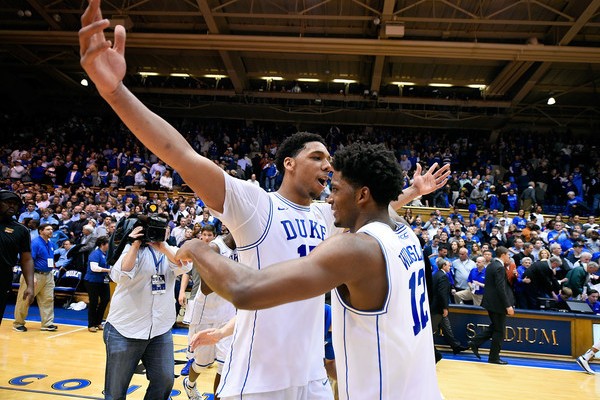 Could Duke's Justise Winslow become the number one pick in the NBA Draft? Don't get upset yet, but it just may happen. Winslow is coming off a great NCAA tournament in which you could argue he's Duke's most important player.
In Duke's win over Michigan State this weekend, Winslow lead the Blue Devils with 19 points and 9 rebounds. During the South Regional leg of the tourney he averaged 19 and 8. Not bad for a freshman who was supposed to be Duke's third best player this year.
At age 19 Winslow is already 6'6 and projected to be a shooting guard in the league. He plays with a non-stop motor that teams will love, this three is becoming reliable (although at the college range) and he's getting to the line at a nice clip. On top of everything he's becoming a lockdown defender on the college level. Michigan State players shot 1-7 with Winslow as the primary defender.
The two big men in the 2015 NBA Draft, Karl Towns and Jahlil Okafor, will go into draft season as the top two projected picks. However, a lot can change. Winslow is considered the 4th-5th player behind the two bigs and the Congo's 6'5 PG Emmanuel Mudiay who's currently playing professionally in China but expected to join the NBA in 2015.
Most teams still covet big men but big men aren't dominating the game as they once did. Teams reluctantly run offenses through big men with a focus on seven foot passers like Joakim Noah and Pau Gasol, but the back-to-basket guys like Andrew Bynum and Marc Gasol are slowly being phased out. There is a reason Dwight Howard's been on three teams (about to be four soon) and Bynum is out the league. Teams just don't need big men clogging up the paint when there are a glut of perimeter scorers on every team.
Winslow represents a defensive minded, scrappy player who can play the two or the three and has a huge ceiling above him. There aren't any "big guy" health concerns with him. He wouldn't have to carry a team from day 1 as whatever team that drafts Okafor will likely try. Simply put: Justise is good and will have time to get even better.
Last year, Andrew Wiggins proved that a young defensive-minded perimeter player can contribute from day one. If anything translates into the professional game its two things (1) can the guy put the ball in the basket? (2) can this guy guard anyone?
Justise checks off both boxes. Will he be #1 overall? That's yet to be seen. Let's just hope that whoever drafts number one doesn't repeat the same mistake the Portland Trailblazers did 2007…