Is Breshad Perriman the Hidden Jewel of this Draft?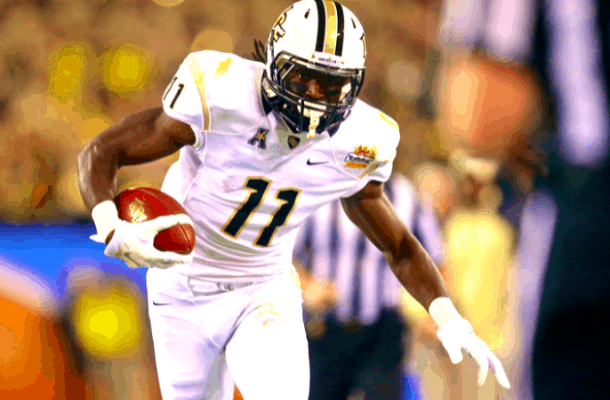 Breshad Perriman set the draft community on fire this year. After having an extremely impressive pro day, many scouts were double checking their boards to secure a first round spot for the University of Central Florida product.
The last time I got this excited over a prospect it was Cordarrelle Patterson of Tennessee University who was drafted by the Minnesota Vikings. I described him often as an "anytime" player who is basically a running back once he has the ball.
Patterson has had his moments in the NFL but one small issue has hindered his ability to be great: he doesn't catch the ball well. A receiver who lacks hands is like a nose tackle who can't even squat the bar. It just doesn't work. There are athletic workarounds a coach can scheme for the player but at the end of the day he still has to do his job.
Upon hearing the news that the 6'2, 212 lb. Breshad Perriman ran a 4.25 I instantly cringed as he was placed in first round mock drafts. Was he just another big burner who couldn't catch? I admittedly didn't see much of him in college so I had to check him out on video.
In the words of Loaded Lux, "You know we kept the file!"
When you see Perriman the first thing you notice is that he's a big guy. NFL receivers are just getting bigger and bigger and at 6'2 Perriman is going to have a decent physical advantage against average sized corners. He does a great job of using his frame to shield off DBs and give his quarterback a big target.
The thing I appreciate the most is that he's a hands catcher. I cannot emphasize how important this skill is for a receiver. Perriman does not let the ball get into his body and snags it away from his chest. This ability alone has made him a HUGE threat for deep balls and Hail Mary's (whassup ECU.) We all saw during the Super Bowl what happens when you give even an average NFL DB a chance to make a play while waiting on a ball to hit your numbers before securing the catch.
Then there is the speed. This guy just simply doesn't get caught from behind. He isn't a shifty guy like Amari Cooper or a guy who's going to look to run through you like Kevin White. Perriman is in a different mold. Despite the 4.25 he doesn't quite display track speed on film but he simply doesn't get caught once you're behind him.
NFL Comparison
If I had to point to someone to compare Breshad Perriman to I'd look no further than Torrey Smith of the Ravens. Ironically the Ravens are constantly mocked to actually draft Perriman.
Where will he get drafted? A player's value like this is totally dependent on the depth of the class he's in. This year's class is going to be comparable to last year's historic receiver class. The only difference is that this year's class is loaded with different archetype of players from the burners like Perriman, to the bruisers like White, to the possession guys like Jaelen Strong and Justin Hardy.
Breshad Perriman will be a top twenty pick. I could easily see a team like the Philadelphia Eagles embracing a big speedy receiver like Perriman.