Jacksonville Jaguars Draft Predictions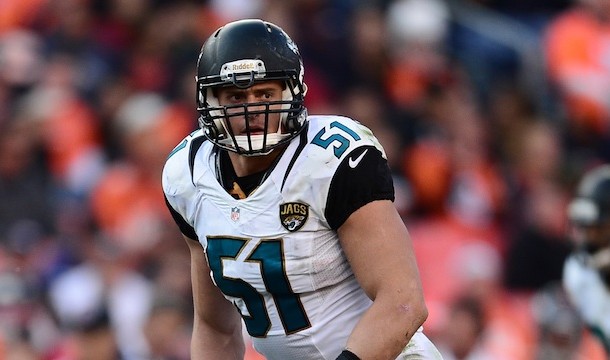 The Jaguars fan base has a lot of optimism these days and rightfully so. There is a new young QB in town, their young players are getting better, and veterans like Chris Clemons are still around playing at a high level.
But what players do the Jaguars need to add? Member of the MDHQ draft community matthewpalmer has shared his thoughts with a 2015 Jaguars mock draft.
On to the picks…
1. Jaguars: Dante Fowler DE Florida
With the signing of Jared Odrick, they don't have to pray that Leonard Williams falls to them. If he does though I still think they will take them. They are really looking to accentuate the pass rush in Jacksonville, and what better draft to do it then this one. They really get their choice at the best one, and right now it's Fowler. He has shown great skills and instincts at his position and bonus he's from Florida!!
2. Jaguars: DJ Humphries OT Florida
The Jaguars on paper had the worst OL in the league last season, letting Blake Bortles get sacked more than 70 times. They need serious help in that department. Humphries had an amazing combine, but scouts still don' put him as a first round pick even though I think he could be better than most 1st round prospects. He shows good footwork and is a big presence. And another bonus, he went to Florida :0
3. Jaguars: Byron Jones CB Connecticut
The Jaguars pass defense was another embarrassing component to their game. Jones could skyrocket to the first round even but I think teams will look over him for bigger school prospects like Jalen Collins and Ronald Darby in the first 2. When your in the same division as Andrew Luck, you not only have to rush him but stop his main target in T.Y. Hilton.
4. Jaguars: Tevin Coleman, RB Indiana
A DeMarco Murray type runner, Coleman uses his speed to get around defenders and into the end zone. The Jaguars running game has really struggled to get yardage this year, and Coleman might start day 1 as a huge round 4 steal.
5. Jaguars: Stefon Diggs WR Maryland
The addition of Julius Thomas in JAX is a huge lift in the red zone, but they still need speedy slot receivers to pick up yardage. Diggs is a great player that is specifically noted for his speed and hands. Will replace the dissapointing Marqise Lee.
6. Jaguars: Jordan Hicks OLB Texas
The Jaguars not only need edge rushers but people who can fill the inside linebacker gaps. Hicks can play both inside and outside and still be a presence. He is one who can bring RB and QB down and a great open field tackler.
7. Jaguars: Adrian Amos S Penn State
The Jaguars secondary on the S side is also a little bit shaky. Some young talent couldn't hurt and hey, its the 7th round, they got nothing to lose. He could at least stay as a backup or if he really proves himself, could start in the near future.
A Second Take (BONUS MOCK!)
Here is another Jacksonville Jaguars team mock draft written by draft community member jagsfan. Will this be close to who Jacksonville takes in this years draft?
Let's find out…
David Caldwell, Gus Bradley and company have put together a much more complete roster after free agency. With few holes left, this draft is really the beginning of the end of their rebuild. The rebirth of the Jaguars is near…
1. Jaguars: Dante Fowler DE Florida
2. Jaguars: Jay Ajayi RB Boise State
3. Jaguars: Hauoli Kikaha DE Washington
4. Jaguars: Gerod Holliman S Louisville
5. Jaguars: Mitch Morse OT Missouri
6. Jaguars: Stefon Diggs WR Maryland
7. Jaguars: Trey DePriest ILB Alabama