6 Things You Already Forgot About Super Bowl 49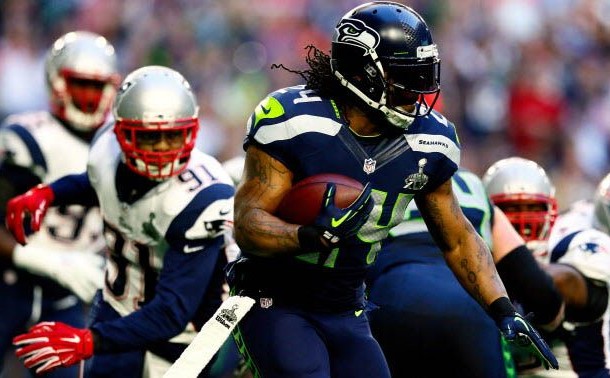 The New England Patriots were victorious over the Seattle Seahawks in Super Bowl XLIX in one of the best championship games of all time. Though we will always remember that classic game, there are things we have already forgotten. With that said here are six things you probably already forgot about these teams:
1. LeGarette Blount Was on Another Team
Had a police officer not stopped LeGarette Blount and Le'Veon Bell as they drove around under the influence, Blount may have never fell out with Pittsburgh. Blount stays in Pittsburgh, there is no LeGarette Blount returning to New England. No Blount in New England, no 148 yard three touchdown playoff performance against the Colts.
2. Jonas Gray Happened
Little known journeyman Jonas Gray torched those same Colts for 201 yards and four touchdowns in week 11. Then he overslept for practice and touched the ball just 24 times for the rest of the year.
3. Stevan Ridley was a Thing
The back we are all forgetting about, Stevan Ridley, is still on this team. Ridley ran for 1263 yards in 2012 in 12 starts, then just 773 in six games during 2013. He was a non-factor due to injury and coaches decision in 2014 with just five starts and 340 yards totaled.
4. The Other Tight End Killed Someone*
I don't want no problems, so I'm just going to leave this here:
*allegedly
5. People Wanted the Patriots Disqualified
We'll remember deflate gate forever, but we are already forgetting that there was a real grassroots movement to have the Patriots disqualified completely from the game.
Eventually we'll forget that 11 out of the 12 game balls were deflated and that Andrew Luck looked like he was trying to throw a medicine ball out there. Tom Brady and Bill Belichick have already been exonerated on all charges by the league, and as far as they are concerned this is water under the bridge.
6. Green Bay Blew Four Chances to Be There
From the fake punt TD pass, to Morgan Burnett's infamous interception slide, to the Russell Wilson YOLO pass on a two point conversion, to the onside kick debacle, there is a lot of reasons why Seattle should have never been there in the first place.
At the end of the day no one will remember that Green Bay and MVP Aaron Rodgers had the game won for about six minutes and did EVERYTHING possible to let Seattle continue to gain possessions and score points. Eventually it cost them the game, and ultimately a trip to the University of Phoenix Stadium in Glendale, AZ.