Rams Players Will NOT Be Punished for "Hands Up, Don't Shoot"
Updated: December 2, 2014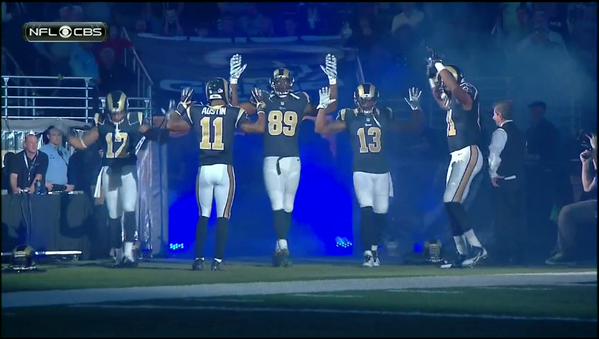 Much respect to the St. Louis Rams and their management. Coach Jeff Fisher announced today that Chris Givens, Jared Cook, Tavon Austin, and Kenny Britt will NOT be punished for their "Hans Up Don't Shoot" gesture Sunday. The league nor the Rams will infringe upon the players First Amendment rights.
Doesn't that sound familiar? People not wanting their Constitutional Rights infringed upon….
"As far as the choice that the players made, no, they were exercising their right to free speech," Rams coach Jeff Fisher said Monday. "They will not be disciplined by the club nor will they be disciplined by the National Football League as it was released today."
These players will undoubtedly be remembered as legends for their actions Sunday. In an era where players tend to have no opinion and be politically correct robots, these players threw caution to the wind and put it all on the line.