Is J.T. Barrett a Future Top NFL Draft Prospect?
Updated: November 11, 2014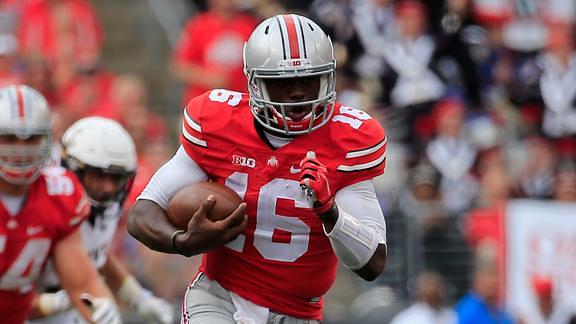 Even though its still too early to hype Ohio State's freshman quarterback J.T. Barrett, I think anyone that checked out the Buckeye passer last weekend was pleasantly surprised. Barrett displayed a command of the game that is among his years. It's a testament to Urban Meyer's QB friendly system, yes, but Barrett is showing flashes of having enough talent to play on the next level.
He isn't a flashy runner in the mold of the guy he replaced (Braxton Miller) nor the quarterback before him (Terrelle Pryor,) but J.T. is already one of the Buckeyes' best runner with 582 yards and 8 touchdowns. His passing completion percentage is a respectable 64% with just 7 interceptions and a 9 yard-per-pass average.
At #8 Michigan State J.T. put on a show that has scouts quietly keeping an eye on him in hopes he matures into a top NFL Draft prospect:
With J.T. Barrett performing brilliantly in place of an injured Braxton Miller, there's no longer any doubt who the Big Ten's top contender is in the national title race.

Barrett threw for three touchdowns and ran for two more in a sensational performance, and No. 14 Ohio State scored almost at will against Michigan State's vaunted defense, beating the eighth-ranked Spartans 49-37 on Saturday night.
Barrett went 16-of-26 for 300 yards against the Spartans. Ohio State's first drive of the game ended in a missed field goal, and another early possession fell apart because of penalties. Aside from that, the Buckeyes scored a touchdown every time they had the ball until they punted in the final minute of the game.

-ESPN

What do you think? Can J.T. Barrett keep this pace of play and become a top draft prospect?