5 Things the Miami Heat Need to Do to Win Lebron in 2015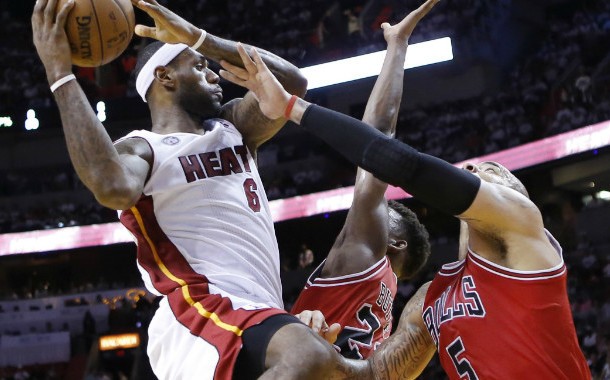 First of all congrats to the San Antonio Spurs. They successfully avenged their 2013 Finals loss and won the 2014 NBA Finals 4-1 over the Miami Heat. One could argue that the Heat and their fans have a case about the game conditions in the game 1 loss but at the end of the day its in the books.
The Spurs played tough defense, textbook offense, and destroyed the Heat with a rotation of solid bench contributors. Wouldn't Mr. Lebron James like to say his team possessed those same attributes? Unfortunate the Heat do not, but Lebron can opt out this summer and take his talents elsewhere. Here are 5 things the Heat need to to do please their king:
1. Get Younger. Everywhere.
The Heat are the oldest team in basketball. Pretty self explanatory. Ray Allen will likely retire which will take his 39 year old legs off the squad, but something needs to be done about Birdman Andersen playing big minutes at age 36 next season.
2. Help Lebron and D. Wade
Some may argue that Dwayne Wade's legs are shot, but at this point he can still be a 20 point scorer in the league due to his craftiness. His style of play, however, will not hold up much longer if he continues to play big minutes with the pressure on him to produce constant scoring for long stretches. The same can be said for Lebron who's 3 years younger than the 32 year old.
A free agent in the back court who can score is needed in the worse way.
3. Find a Point Guard
I'm not sure who was in that #15 Mario Chalmers jersey during the Finals but he did not play the part of a young veteran NBA point guard. His lack of scoring was one of the reasons the Heat were blown out and also resorted to a no PG lineup in a last ditch effort to remain competitive.
4. Find a Rebounder
If you're going to be content with single shot possessions then you're going to be content with losses, which is exactly what happened to Miami. Too many times were jump shots going up with four Spurs in the paint and Chris Andersen all by himself outmatched on the rebound.
5. Consider Sign & Trading Chris Bosh
You heard it here first. The Heat will float CB's name out there in trade talks. As I said above, why are they paying him a near max to NOT rebound at 6'11?
Three point shooters aren't paid $20 million a season, and that's what Bosh has been reduced to in this offense whether by design or not. Do not be surprised if Bosh's name pops up in rumors for Kevin Love… the king needs help and by all means Pat Riley and crew are going to do what they can to accommodate those needs.
Lebron James just lost by 20 in Finals games in which he scored 20 points in one quarter of one game, and 31 points total in another. All while watching Kawhi Leonard get a MVP trophy.
You really think this team is going to stand pat? To steal a line from Jay-Z, excuse me while I laugh at that…