Washington Wizards Live To See Another Game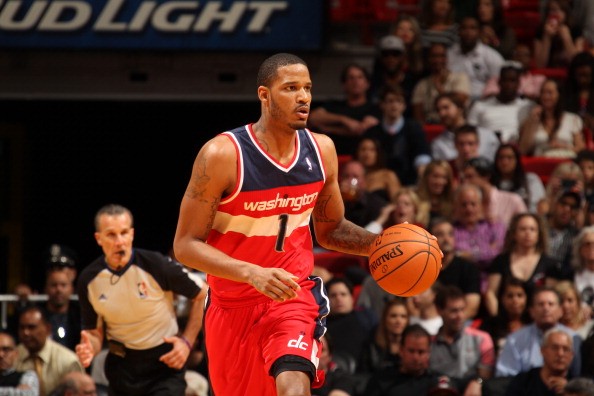 After a heart wrenching loss to the Pacers in game 4, the Wizards had the odds stacked against them going into game 5 of the series. After the game 4 loss the wizards were faced with a must win game, but John Wall and company had a formidable task of going into Bankers Life Fieldhouse and coming out with a win. However, the Wizards displayed true resiliency and romped the Pacers with a 102-79 victory.
Washington's starting five took it upon themselves and scored 90 points to lead the Wizards to their 2nd win of the series. Particularly, Marcin Gortat shot an unbelievable 87% from the field and recorded postseason highs of 31 points and 16 rebounds. All-star John Wall dropped an additional 27 points to help the Wizards defeat the momentous Pacer squad. The stellar performances of the Wizards' players caught the eye of the twittasphere.  Hall of famer Magic Johnson tweeted:
"Just watched John Wall put on a PG clinic w/ 27pts and Marcin Gortat put on a big man clinic w/ 31pts & 16rebs in the win over the Pacers."
Ironically, the Wizards' benches, who have played a major role throughout the playoffs, only recorded 12 points, while the Pacers' bench recorded 31 points. Nonetheless, the most startling statistic is the Wizards pulling down 62 boards, as opposed to the Pacers snagging a mere 23 rebounds. For every 1 rebound the Pacers collected, the Wizards collected 2.7 rebounds. This big man domination can be attributed to Roy Hibbert's pedestrian performance. Despite Hibbert's 7 foot 2 inch frame, the big man failed to collect any defensive rebounds and only grabbed two offensive rebounds. Surely, the Pacer fans cannot forget Hibbert's stint as the driver of the struggle bus during the Hawks' series. Was this lackluster performance in game 5 the start of another cold spell for Indiana? Or was this just an unlucky fluke that will be surely corrected in game 6?
Not only did this pathetic Pacers' performance allow the Wizards' to breathe another postseason breath, but it also left Indiana in a state of uneasiness. This Pacers' performance illustrated that the coveted number 1 seed may still have some major flaws that are not going away.  However, any viewer of game 5 will tell you that the Wizards won the game, rather than claiming that the Pacers lost the game. The Wizards domination rekindled the fire of the DMV fan base, and provides a spark of hope that the Wizards will come back to D.C. riding the victory wave to another blowout win Thursday night.