Why it Makes Sense for the Patriots to Draft Johnny Football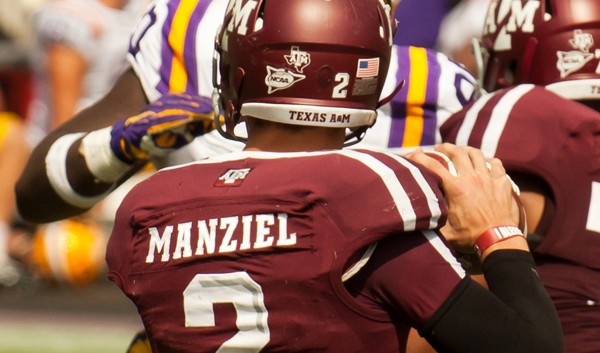 A lot of controversy is swirling about the draft community regarding the New England Patriots and their interest in Johnny Manziel. For the record, the Patriots have conducted an interview with UCF's Blake Bortles as well, and have one scheduled with Teddy Bridgewater.
While this seems like a bit overkill it makes incredible sense for this franchise. For one, at pick 29 overall drafting a quarterback isn't going to cost the team much in terms of opportunity cost or literal money. 29 is the same range teams have taken chances on Tim Tebow, Brady Quinn, and Brandon Weeden in the past.
Also looking forward this team has already tried to bring in the fore-mentioned Tebow with no success. As of today the only quarterbacks on the roster are the Legendary (aka OLD) Tom Brady and Ryan Mallett who is an unrestricted free agent in the spring of 2015.
This team needs to sign a quarterback for no other reason than to have someone with experience on the roster just in case Mallett leaves. There is always a scenario that could play out such as reacquiring a guy who's been in the system like Matt Cassell or Brian Hoyer, but it's just smarter to have a guy already there. Especially when most of your needs have been filled in free agency.
"Magic" and all that aside Johnny Manziel is a solid pro prospect. I fully expect him to be a career starter in the league. At the worst he's a Jeff Garcia type. A guy with a diminutive stature but the talent and tough attitude to win games make a Pro Bowl here and there. Don't be surprised if New England pulls the trigger if Johnny Football drops to 29.