God Tells SDSU's Adam Muema to Skip His Pro Day? (@So_Lucrative)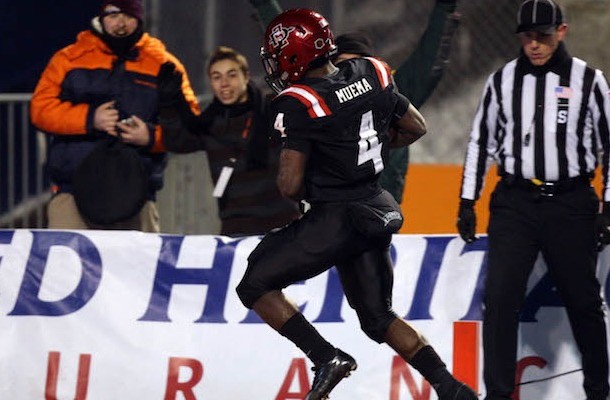 If you remember Adam Muema you'll remember that he skipped out on the combine because "God told him to." He believes that he will be drafted to the Seattle Seahawks off nothing but faith alone. You have to admire his dedication to his faith if nothing else.
If you thought that was wild here is the next story in the journey of Adam Muema. Apparently he's decided to skip out on SDSU's pro day as well.
Former San Diego State running back Adam Muema did not participate in the Aztecs' pro day Thursday, the U-T San Diego reported.

Aztecs coach Rocky Long had said Wednesday that Muema, a 21-year-old from Covina, Calif., was in San Diego and expected to attend the pro day workouts, according to the report.
Sometimes you may feel like God forgot about you but MAYBE it's the other way around. Let Go&Let God!

— Adam Muema (@So_Lucrative) March 20, 2014
@polakojones : Did I miss the Draft that's in May?

— Adam Muema (@So_Lucrative) March 21, 2014
According to reports Muema also changed his phone number and was dropped by his agent. You can have all the talent in the world but if teams don't trust you, you might not get drafted.
I hope this pics makes one of my articles. Caption "I heard you were looking for me". pic.twitter.com/xEB43ewlsh

— Adam Muema (@So_Lucrative) March 20, 2014
UPDATE:
Did God tell Muema to skip out on Pro day? Idk MAYBE :) http://t.co/DWTgb4kh23

— Adam Muema (@So_Lucrative) March 22, 2014
It's going to be an interesting draft this Spring!