Why are Alabama Players Entering the NFL Draft Injured?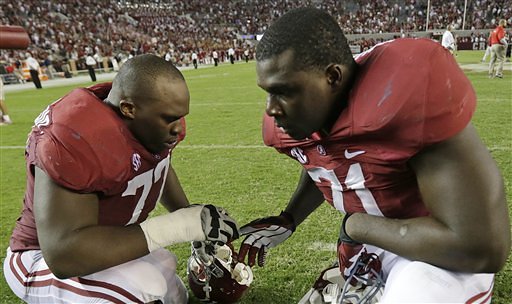 This is a topic that is quietly going around the draft community. Ever since Trent Richardson entered the NFL Draft two years ago while in need of multiple minor surgeries, there had been a string of Alabama players behind him all entering the draft banged up.
The latest player in that disturbing trend is offensive tackle Cyrus Kouanjio. He was sent home from the combine after it was rumored he had a significant knee injury. These reports have since been refuted by Kouanjio and his people but again, here is another Alabama player and another injury.
We all know that Nick Saban is currently in the news citing that something needs to be done about uptempo offenses and player safety. Saban has proposed a 10 second freeze period to the NCAA to allow defensive players to safely get on the field and get set. That's a great proposal in theory, however should there also be a spotlight on Saban and what goes on inside of his program? Why are all these Alabama players constantly entering the draft injured?
Here is how my source broke it down:
The front offices were starting to whisper about how broken the Alabama players are when they get to the NFL. Trent Richardson, RT DJ Fluker, G/C Brad Jones, CB Dee Millner all had surgeries before their rookie seasons. Now Cyrus is all broke down…Saban works those kids down.
What do you think?