Mel Kiper Says Houston Texans will Draft Johnny Manziel #1 Overall
Updated: January 16, 2014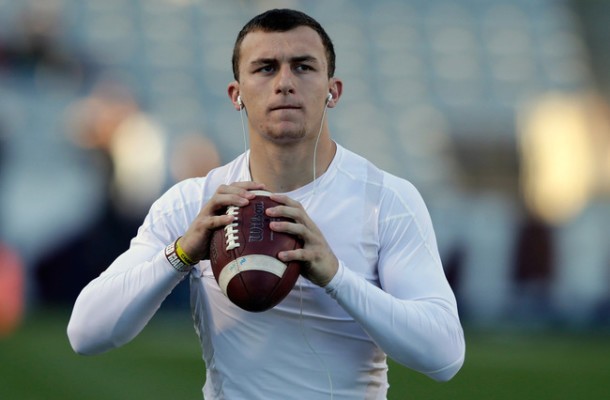 Mel Kiper has spoken. With the #1 pick in the 2014 NFL Draft, the Houston Texans will select Johnny Football Manziel. Commence the parties featuring Drake, Bun B, and some purple liquids right now…
…or at least if the draft shakes out that way. We still have a long way to go but here is what Mel had to say on it:
Analysis: I spoke to a number of high-ranking NFL evaluators this week, and this is the one QB anyone felt certain was a top-5 pick. So consider this an early bet, with one major caveat: Bill O'Brien just arrived, is still putting his staff together, knows a good QB when he sees one, and hasn't had enough time (if any) to study the draft class. But we know quarterback is a major need here. O'Brien likes a QB with presence, a leader and a guy who will out-prepare the competition. And while Manziel has gotten his share of bad press, he's a dynamic talent, and I feel he can lead at the next level; I'm not alone in that opinion. While Manziel is currently ranked No. 11 on my Big Board, this reflects the draft.

Manziel doesn't fit the old prototypes of a QB drafted No. 1, and I have concerns about how well he can protect himself given his smaller frame, but he is a magician on the field, and is made for the current NFL. This league protects and welcomes QBs who can improvise, run and make plays beyond the playbook. It's early, but Manziel is a special player and has the draft process to prove it further.
Bill Polian also chimed in on ESPN and stated that since Johnny Manziel is an improvisational player it will likely come down to how Bill O'Brien sees him fitting in the new offense. Most teams will not finalize their draft board until the week or so before the draft so we have a long way to go. How Manziel looks at the combine and how he interviews is also going to be key.
We all know how big Johnny Football would be in Houston but don't plan those Welcome Johnny to H Town parties…. yet.