Raiders Drafting QB in the 2014 NFL Draft? Terrelle Pryor is Jamarcus Bad
Updated: November 19, 2013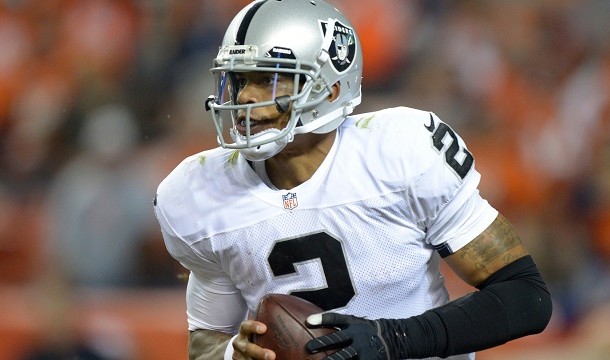 The Raiders have been struggling, and one of the key reasons is the stalled development of QB Terrelle Pryor. Pryor is a third year player who is still very young, but when you look at the numbers it's hard to believe he is "the guy" even when you consider his elite scrambling ability.
SiverandBlackPride broke down the numbers and they are shocking:
Over the past four games, Terrelle Pryor has had a passer rating of 42.0 (45.7, 25.7, 55.7, and 40.9) with 1 passing touchdown to 8 interceptions. The last quarterback to have a four-game stretch that bad was JaMarcus Russell who had a passer rating of 41.2 (47.6, 46.0, 22.6, and 48.5) over the first four games of the 2009 season.
After missing on Tyler Wilson from Arkansas, do you think they draft another QB in the 2014 NFL Draft? Or do they bring in someone to legitimately compete with Terrelle Pryor?
It's not hard to envision a future which Terrelle Pryor is playing another position. It seems he doesn't have a natural feel for the position and may very well be best used catching passes instead of throwing them. We'll see how the future shakes out in Oakland.