Rant: One Game Does Not Kill a Quarterback's Draft Stock
Updated: October 22, 2013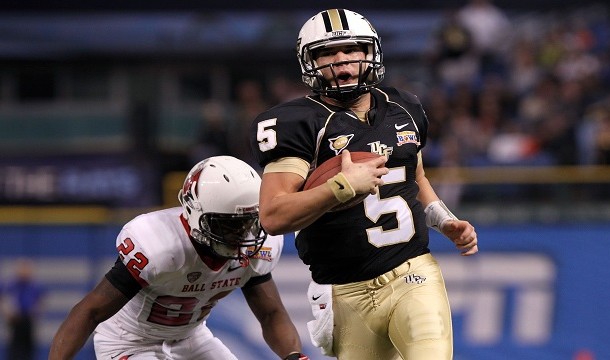 Ladies and gentlemen of the draft community, it's time for another rant. Today I'd like to talk about the culture of "instant draft stock" and draft pundits being prisoners of the moment.
This weekend we saw several top 2014 NFL Draft quarterbacks stumble in losses. Johnny Manziel was injured and took a bad sack to lose versus Auburn, Tajh Boyd never really got going versus Florida State, Teddy Bridgewater and Louisville were shocked by Central Florida, and Bret Hundley and UCLA were shocked by Stanford.
That must mean that the #1 quarterback in the draft is Oregon State's Sean Mannion and the #2 is Central Florida's Blake Bortles… right? RIGHT?!
Clemson QB Taj Bojd NFL draft stock just plummeted this game. He probably lost himself around 15 million up front #fsuclemson

— King of the Hill (@BrotherFlourish) October 20, 2013
Whatever rise LSU QB Zach Mettenberger has seen this season in his draft stock he's losing at warp speed with his performance tonight

— Rob Veno (@robveno1) October 20, 2013
As of like three minutes ago?! RT @NFLMocks Missouri QB James Franklin 2014 NFL Draft Stock Rising http://t.co/dTVtb43Ow3

— Go Joe Bruin (@GoJoeBruinUCLA) October 12, 2013
Your draft stock can rise as you get injured in the same game?!!
I'm asking because that is what I'm seeing on ESPN and posted all over Twitter during these games. It's gotten to the point I try not to read my timeline on Saturdays. People calm down, it's just one game.
Teddy Bridgewater still threw for over 300 yards, and no interceptions
Johnny Manziel displayed extreme toughness in coming back from a shoulder injury which impaired him from throwing the ball- and still kept his team in the game until the very last play
Tajh Boyd had his first bad game….
Brett Hundley had an average game, with both interceptions coming in the second half
There are many ways to scout, but you have to take everything into consideration. If you're looking at a box score and twitter to determine whether or not you like a player than you're doing it wrong.