Report: NFL Team to Sign Aaron Hernandez After Prison Bid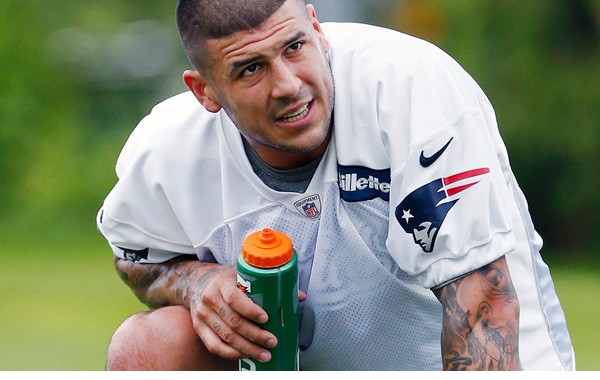 Even though he is being charged with murder, there is a good chance that former Patriots TE Aaron Hernandez will restart his NFL career when released from prison. There is already more than one team willing to give him a shot.
As we have seen in America lately, this country simply refuses to convict people as of late in any high profile murder or manslaughter case involving gun violence. The pro gun agenda in America is winning whether people like it or not. The latest person to benefit will likely be Aaron Hernandez.
There is a strong case that he will serve little to no jail time. The lack of a time is not because Aaron Hernandez is innocent (allegedly), but rather that he's been overcharged according to legal experts.
Doesn't this sound real familiar?
"His principle nemesis at this point is likely to be the five gun charges levied against him; I think they got him dead to right on most of those," Solotaroff said. "But as crazy as it sounds, this is a guy with no priors. So asking a judge to sentence Hernandez to consecutive prison bids – rather than contemporary ones – is going to be a very hard sell for the prosecution. And if in fact he winds up doing three years behind (bars for) those gun charges – which would be a lot in this case – he's 26, 27, with very low mileage on those legs of his and a lot of time to heal up. My sources tell me there will be more than one NFL team pursuing him hotly when he walks out of jail in four years."
I don't even know what to make of this new trend of letting (alleged) killers walk free in the name of the gun rights…