A Look Ahead: David Fales QB San Jose State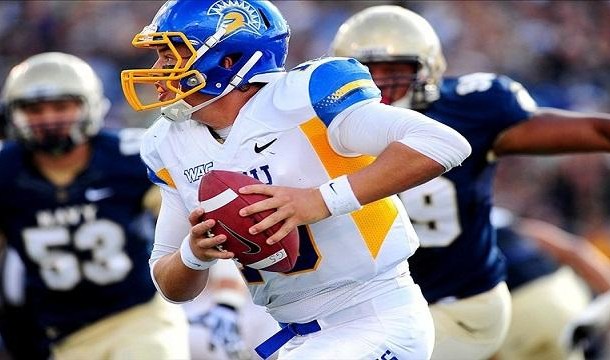 With the 2013 NFL Draft finally at its conclusion it is time to start looking at the class of '14. We'll start with the quarterbacks since that's the most important position on the field.
Everyone knows that Teddy Bridgewater is one of the top players at the position, and we'll evaluate him later, but for the first spotlight of 2014 let's take a look at David Fales (pronounced fails).
Fales is currently the second rated QB on the board behind Bridgewater. Texas A&M sophomore Johnny Manziel is in the mix as well but we have him ranked slightly behind Fales.
Why? Easy: Fales has the arm.
The first thing that jumps off the screen at you is Fales' incredible accuracy. Though he throws with kind of a weird spiral (he reminds me of Brady Quinn in that aspect) the ball gets there right on time between the numbers. Fales' anticipation on deep-intermediate throws is already good enough to play on Sundays in my opinion. He doesn't have the strongest arm but is adequate in that aspect.
If there is a limitation to his game it is his mobility. Not that he's a stoic guy, David can actually move. However when he moves in the pocket nothing seems to happen unless its a designed move. Many times Fales gets in trouble trying to extend a play and loses yards when he should just get rid of the ball. I call it being "trapped by your own athleticism." He's got good mobility but he's nothing like a Cam Newton or Teddy Bridgewater. If the lane isn't WIDE OPEN, Fales shouldnt be running.
With that all said, I have Fales graded out as a TOP 3 prospect and the #2 QB. He's a legitimate franchise player prospect. I compare David Fales as a better Jake Plummer with an Aaron Rodgers ceiling.