Small School Sleeper: Donterrious Porter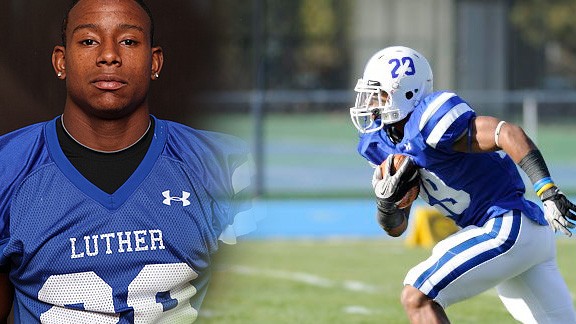 We decided to do something a little different and showcase a small school player who's name should be on your radar right now. With the 2013 Draft coming up, all of the attention is going to the "household names" but we all know that teams are built on players that somehow slip through the cracks and are picked up by the league's best franchises.
A small school player that you may need to get familiar with is Donterrious Porter out of Luther College in Decorah Iowa (2012 draft class). Luther is a Division III school. This is the same level of football that produced Fred Jackson of the Buffalo Bills.
Now on to the tale of the tape. Donterrious is a 5'8, 189 pound defensive back that also has experience at either safety position. When I checked out some footage on him, the thing that jumps out at you is that Porter is very good in run support. Many times he fights and pops off his man to be the player who actually makes the stop. He is also good in coverage and plays the ball well. To add the icing on the cake, he made the school's special teams MVP as a kick returner in 2010 and 2011.
What I find ironic is that on first glance, he instantly reminded me of Captain Munnerlyn of the Carolina Panthers and upon doing my research their combine numbers are very similar.
With the NFL becoming more and more a passing league, its only a matter of time before Donterrious gets his shot to show his value in the league.