Live Draft Blog: Round 1 2013 NFL Draft Reactions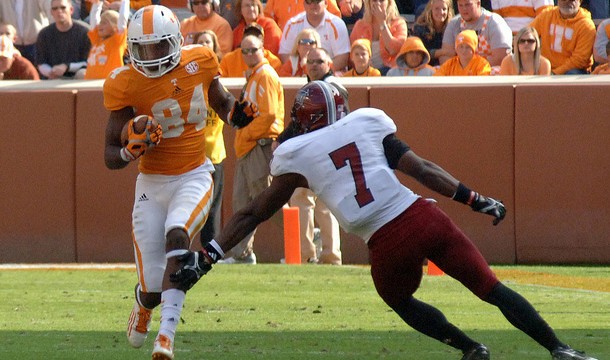 The draft comes on with of all people, 50 Cent and… Russell Wilson doing a music montage to intro. I guess I'm cool with this since I'm a 50 Cent Stan. Weird match up of guys though.
We got Jaws, Gruden, and Kiper in the booth. Never tell me a rumor about Gruden going to college again. He's eating too well on ESPN. Eventually Kiper has to hang it up, but I wonder how they'll do that? It seems like McShay would be the next up, but never count out YA BOY…. #speakitintoexistence
The draft is open and the Chiefs are on the clock. Something tells me the Chiefs don't want to make this pick. They are scrambling in that War Room Im sure. They probably want to trade down. Mel just said the best players in this draft are Joeckel, Fisher, Lane Johnson 1-2-3.
I guess I'll post my personal list of who will be the best players to come from this draft now:
1. DJ Fluker
2. Barkevious Mingo
3. Chance Warmack
4. Luke Joeckel
5. Matt Barkley
The Chiefs really just used the #1 overall pick on a OT from the MAC? Is this real life?
Jaguars take the remaining tackle, Luke Joeckel. Eugene Monroe will be allowed to test free agency when his contract is up I bet.
The NFL must have noticed how the hats didnt fit last year, they went back to fitteds. And… these hats actually look really good.
Ouch! The Raiders draft history is awful. Literally three hall of famers have been drafted the very next pick after their draft pick in the last decade.
TRADE*** Miami Dolphins trade up to #3 overall. Lane Johnson is cheesing on the phone and some guy (his Pops?) is giving him the "atta boy" shoulder squeeze. Let's see if he is going to Miami. NOPE! Dion Jordan!
Eagles select Lane Johnson. They needed a tackle, so it makes sense.
Detroit is on the board. I think they want Ansah badly. #5 is way too high but it has to happen.
Ansah is rocking cornrows in 2013? You know what, I'm not going to touch that.
….and he guaranteed a Super Bowl. Aight Ziggy.
Cooper over Warmack? Ok Arizona.
Rams trade up to #8! Tavooooooooooon?
Jets take the "next Revis." Makes sense, the whole DJ Hayden thing was a smokescreen.
There goes Warmack. What will San Diego do? DJ Fluker goes one pick after Warmack!
Raiders trade down, get who they wanted all along (DJ Hayden) and recouped the second they lost in the Carson Palmer trade. Not a bad day.
Jets fans are mad that Sheldon Richardson is joining the gang green. Rex wants defensive tackles. It is what it is.
SHOCKER! Bills trade down…. not for Nassib, for Manuel! I got a tip that he was going in the first but couldn't figure out which team.
SHOCKER! Kyle Long to the Bears in round 1. Also, the Bears will convert him to guard. The Redskins were rumored to want to add him. So this pick helps keep him away from another NFC team as well.
Floyd falls all the way down to the Vikings. I think he's a better DE than DT, so we'll see if the Vikings move him.
Broncos pick another DT…. sigh.
Here we go, the Vikings got a third first round pick will it be Manti Catfish? Nope. It's Patterson. On a side note, the Vikings are going to be a really good Madden team for franchise mode.
photo credit: NashvilleCorps via photopin cc