Chad Ford's Latest 2013 NBA Mock Draft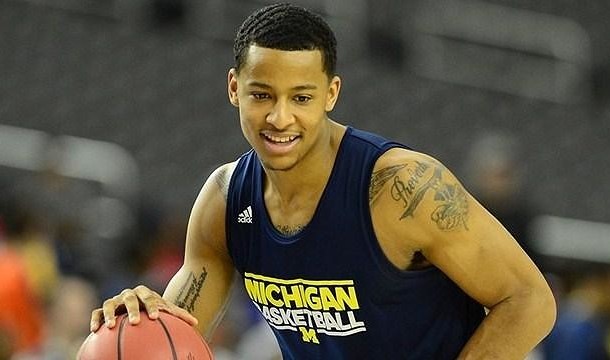 NBA Draft guru Chad Ford recently dropped version 1.0 of his mock 2013 NBA Draft. With the college hoops season ending just a few days ago, there is no better time to reflect on the players of tomorrow and where they might go.
Let's check out the picks.
Chad's picks, with my commentary below:
1. Nerlens Noel Charlotte Bobcats (25 percent chance to win lottery )
My reaction as someone who supports Charlotte's NBA offering:
Clearly Noel is the best player in the draft and absolutely has to be the pick. There is no one on the Charlotte roster that is beyond having their spot taken and that includes Bismack Biyombo and his 4 PPG.
2. Marcus Smart Orlando Magic (19.9) COLLEGE: Oklahoma St.
The Magic's front court is decent, and their back court lacks quality depth. Smart makes sense, but I expect Burke to be in the conversation as well.

3. Ben McLemore Phoenix Suns (15.6) COLLEGE: Kansas
After losing Nash, there is a big need for scoring efficiency and three point shooting.
4. Otto Porter Cleveland Cavaliers (11.9) COLLEGE: Georgetown
Porter does a lot of things well, but nothing great. With Thompson, Waiters, and Lebron James a very, very, very, small possibility in their future plans this would create a logjam at SF.
5. Victor Oladipo Detroit Pistons (8.8) COLLEGE: Indiana
I think they would actually take Muhammad here. They have a nice young front court, so establishing youth in the back court is a must.
6. Trey Burke New Orleans Pelicans (5.5) COLLEGE: Michigan
Burke is riding the hype wave right now and won't make it out the top 5, bet on that. Even if he does in this scenario the Hornets should take Muhammad. Grevis Vasquez and Austin Rivers are already in a crowded back court.
7. Shabazz Muhammad Sacramento Kings (5.4) COLLEGE: UCLA
Absolutely makes sense from a talent standpoint. But would you trust adding Muhammad to a team with this many dysfunctional pieces? I don't know what's up with the Kings, but it doesn't seem like their current gel of players works together and Muhammad may be too big a personality to throw in the mix.
8. Alex Len Oklahoma City Thunder via Toronto Raptors (2.2)
This is the Kyle Lowry pick that was re-routed during the Harden trade. At this point in the lottery you have to start taking talent over need so its a good pick.
9. Anthony Bennett Washington Wizards (2.3)
Teams will fall in love with his hustle and energy. That would do well to a young team like the Wizards who would like to push it more with Wall and Beal. Emeka and Nene have already played their best basketball.
10. Gary Harris Minnesota Timberwolves (1.1)
He's only 18. At this point he is another log in Minnesota's stash of young talent. Will they ever decide to flip some of that talent for a bonafide superstar?
11. Cody Zeller Philadelphia 76ers (0.8)
Makes a lot of sense because Bynum is Bynum. I fully expect Bynum to come back and be the best scoring center in the game again, but even then… he does Bynum things sometimes. #Yolo.
12. Mitch McGary Portland Trail Blazers (0.7)
The fact that he's a "late bloomer" at age 20 is either something to get really excited about, or really concerned.
13. Michael Carter-Williams Dallas Mavericks (0.6)
This would be a home run pick. Dallas hasn't trusted anyone on their roster with the point duties (Darren Collinson, OJ Mayo, for a few weeks Derrick Fisher) . Carter-Williams instantly fixes that and provides the big guard they lost when Jason Kidd bounced.
…..and Britney Griner in the second round for the LULZ.
14. Mason Plumlee Phoenix Suns via Los Angeles Lakers (0.5)
The Suns are another team with a weird mix of players. Not really sure where Plumlee's minutes would come in between the Morris Twins, Gortat, and Beasley. Something's gotta give.
15. Glenn Robinson III Milwaukee Bucks
Bucks had a good run with his dad, why not draft the heir to the throne?