2013 NFL Mock Draft- Raiders Picks After Getting Matt Flynn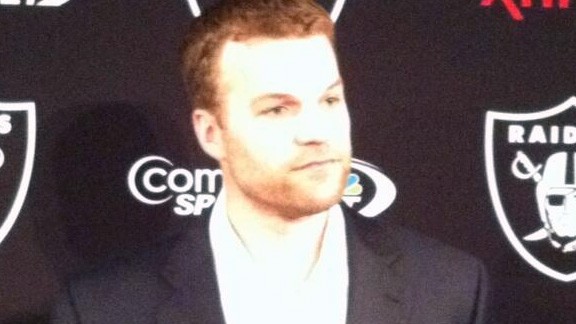 The Raiders and Seahawks have finally completed a deal that will send quarterback Matt Flynn to Oakland. The Raiders will give up a fifth round pick to acquire their new starting quarterback:
In exchange for Matt Flynn, the Seahawks will receive a fifth-round pick in 2014 NFL Draft and a conditional pick in 2015 draft from Raiders

— Adam Schefter (@AdamSchefter) April 1, 2013
On the back end the Raiders have traded incumbent starter Carson Palmer to Arizona for a conditional seventh round pick. Now that the quarterback situation has been settled where will the Raiders go in the 2013 NFL Draft?
There are several different ways this can go:
Geno Smith- the Raiders could still select their quarterback of the future. The jury on Flynn's ceiling is still very much out especially considering how Russell Wilson wrestled the starting job from him so quickly in Seattle.
Star Lotuleli/Shariff Floyd- the Raiders still need defensive line help badly. This may be their best chance to draft a young centerpiece.
Dee Milliner- Tracy Porter was just signed from Denver, but you have to imagine there is room for another corner back.