Raiders Thinking About Signing Vince Young?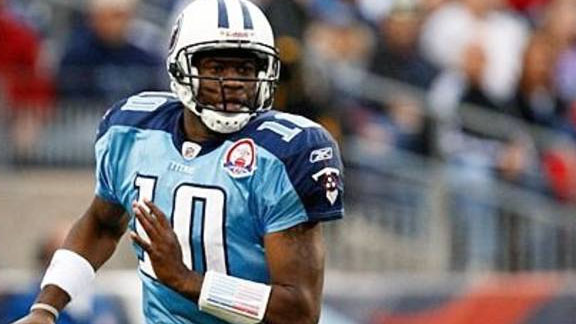 The comeback story of Vince Young has been pretty sad. He was once a rookie-of-the-year and Pro Bowler, only to be cast of the Titans faster than someone on Survivor. Since then he has had short stops in Philly and Buffalo where he was most noted for coining the term "Dream Team."
No one has seen Vince Young on a football field since Buffalo cut him last August but word is that VY has stayed in shape and returned to Texas. He is finishing up his degree and raising his family which is always good to hear.
However as far as the NFL goes, that phone has not been ringing….. until now. Word is that the Raiders are having discussions about bringing in Vince for a workout:
Young is in talks with the Raiders about visiting them for a workout, according to Ian Rapoport of NFL Network. Rapoport cautioned that those talks are "preliminary," so we're probably not going to be seeing Young in the Silver and Black any time soon.
It would be really good to see Vince back in the league. If even as a backup.