Buccaneers Would Trade 1st Round Pick for Revis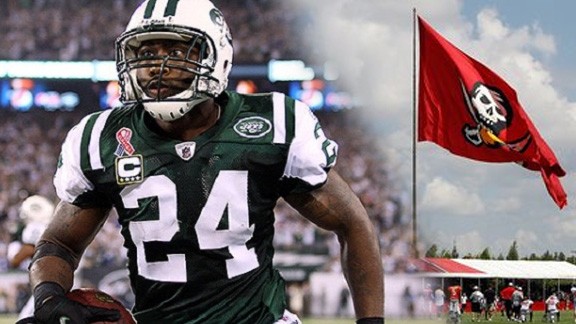 Now that the Tampa Bay Buccaneers have signed Dashon Goldson and sured up the safety position, word is that they have turned towards the corner spot as the next place of need. Most mocks have the Buccaneers drafting some corner so trading for Jets CB Darrelle Revis wouldn't be a bad move.
Ironically in our latest we have them replacing DaQuan Bowers with a defensive end. However, trading the pick altogether for Revis isn't out of the question according to Mark Dominik:
Bucs general manager Mark Dominik said Monday at the NFL meetings in Phoenix that he hasn't ruled out including the 13th overall pick in a compensation package for Revis, according to the Tampa Bay Times. That's a key development, because it was previously reported they wouldn't surrender their No. 1 in next month's draft.

"If we think it's in the best interest of the team, we will do something — if that's a player that everybody is speculating [Revis] or maybe it's a player at a position that nobody has thought about," Dominik told the newspaper.

Source: http://espn.go.com/new-york/nfl/story/_/id/9068525/tampa-bay-buccaneers-ruled-giving-first-round-pick-darrelle-revis
It may be better off if the Buccaneers wait.
The market for Revis is obviously not at the price the Jets are asking. Outbidding yourself is usually a mistake in any deal. Simply let Revis play out his last year with the Jets, then put the full-court press on him in free agency.