With a Good 40 Time, Te'o Could Be Top-10
Updated: February 14, 2013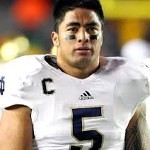 Now that the media hype over the whole Manti Te'o girlfriend hoax has died down, it seems like he's slowly moving back up scout's big boards. It's been a mighty fall in just a month in a half. Te'o was being considered for the top-pick overall, but a poor National Championship Game and the hoax crushed any momentum he had, plunging him from a top-10 pick to a late firstrounder.
Mel Kiper tweeted recently that he believes if Te'o has a good 40 time at next week's NFL Combine, he could be reconsidered in the top-10. I believe the 40-yard dash is one
of the most overrated Combine drills. Unless you have been burned or get past the defense, when will a player ever run 40 yards straight? I get how it measures speed, but I'm more interested in football speed, which can be seen on tape.
Either way, Te'o is another interesting prospect in the Soap Opera that is the NFL Draft. Most scouts I've read are giving him a late first round grade. He has outstanding leadership (on the field), but still his game against Alabama worries me. I'd be surprised if he last past the Baltimore Ravens with the 32nd overall pick.
Follow Chris on Twitter @ChrisDommermuth