Vance McDonald the "Biggest Sleeper" in Draft
Updated: February 14, 2013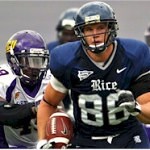 NFL Draft guru Gil Brandt tweeted that Rice TE Vance McDonald might be his top sleeper in this year's class.
"He'll come out of next week's NFL Combine as one of the stars." -Brandt
Anytime Gil Brandt makes statements like this, I tend to listen. McDonald impressed scouts with his athleticism and size during the Senior Bowl. Executive Director of the Senior Bowl, Phil Savage was especially impressed with the precision in which McDonald ran his routes. He made some spectacular catches at the Senior Bowl, but also way susceptible to stone hands from time to time.
Multiple NFL Scouts told the National Football Post that they would be surprised if McDonald made it past the second round. He first garnered NFL scout's attention when the 6'5" prospect caught 8 touchdowns during his Sophomore season. McDonald caught a total of 79 catches during his Junior and Senior seasons.
Follow Chris on Twitter @ChrisDommermuth