Top 5 NFL Prospects
Updated: February 22, 2013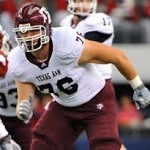 Football is one of the most widely enjoyed and watched games in the country. Everyone wants to participate in a football contest. Well, for those of us who cannot actually join or participate at the league level, there is hope and plenty of opportunity. This is where the National Collegiate Athletic Association or NCAA football betting strategies come in. A number of us might wonder as to what a good entry point into this might be, and that's where wageronsports.com comes into the picture. This website is an excellent way to participate in the National Football League (NFL) and share in the excitement of playing.
Interested individuals are probably wondering about the top NFL prospects for the next season and where their luck might lie. Here are some of the top prospects to keep your focus on.
At the top is Luke Joeckel, with a prospect ranking of number 1 by CBS Sports. Originally from Texas, Joeckel, over the last six years, has been the fourth SEC player to have won away the Outland Trophy.
Next on the charts is Bjoern Werner from Florida State. Werner, originally from Germany, is an upcoming defense player. From what CBS Sports has to tell us, Werner had finished his career with 23.5 sacks, 35 tackles for loss, 3 forced fumbles, 18 passes defended, and 2 fumble recoveries in just a couple of seasons."
Chance Warmack from Atlanta, Georgia, is number three in terms of rank. Over the course of his career, Warmack might just have managed to make a place for himself in the prospective top ten. We will get to know more about the same in the month of April.
Other prospective players are Damontre Moore from Texas, who is currently ranked number 4. Moore has been compared to the likes of John Abraham, DE of the Atlanta Falcons, by Rob Rang for CBS Sports.
Next up, Dee Milliner from Alabama with a rank of 5, has made quite an impression as an excellent tackler. While only a junior, the player was a 2012 Thorpe Award finalist and that, by no means, is an average feat. Other names on the list include Eric Fisher, Star Lotulelei and Jarvis Jones, ranked at numbers 6, 7 and 8 respectively.
These are some of the top names to watch out for this April, all promising the oncoming of an excellent season of power-packed NFL play.