Mel Kiper Drops Bomb in Latest Mock Draft
Updated: February 7, 2013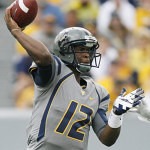 Earlier in the week I wrote about Russ Lande's surprising placement of Syracuse QB Ryan Nassib at the top of his "Big Board." In almost a perfect example of just how much the NFL Draft is a crap-shoot and based on so many different opinions, ESPN's Mel Kiper said on Sportscenter today that there is "no QB to remotely consider" with the first pick.
Kiper went a step further with his latest mock draft that had a total of zero QB's taken in the first round. He spoke about how some teams in desperate need of a QB may be tempted enough to trade into the end of the first round, but says the value isn't there for a QB to be taken in the top-10 of this draft.
No matter how Mel Kiper feels about the QB's in this draft, someone will be taken in the top-10. Someone will fall in love with the talent and potential of somebody and take them at least in the top-20 picks.
There are so many different opinions on just how the top-5 QB's should be ranked. It will become a little more clear as we get closer to the draft, but it's going to be interesting to see how what teams like what players or what teams don't like others.
Follow Chris on Twitter @ChrisDommermuth