Matt Barkley May Not Throw at the Combine
Updated: February 4, 2013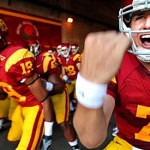 USC's Senior quarterback Matt Barkley is on a mission out to prove himself. After a Senior year that was a total miss on expectations, Barkley found himself injured and unable to help his team at the end of the season. However Barkley is looking forward to getting himself ready for the draft.
Barkley had an interview with Hannah Storm in which he cleared up some issues. His shoulder was sprained and did not require surgery to heal, and he is "a couple days away" from coming back 100%.
Matt is focused on showing people why he is the top passer in the 2013 NFL draft but is not expected to throw at the combine.
It was initially reported that Barkley would not throw at the Combine, so we apologize for posting that false claim. Barkley is still recovering from a right shoulder sprain and USC reportedly moved their pro day back two weeks to give the quarterback more time to heal. "It seems to be the trend not to (throw at the combine), and I don't feel that I have to," Barkley said. "We'll see when that time gets closer. It will be more of a game-day decision… I don't feel I have to necessarily prove anything."

Feb 1 – 5:36 PM

Source: ESPN
Could that be a mistake? Who knows, lots of guys tend to shy away from passing at the combine so it doesn't matter at this point.