Giants Cap Casualties Continue On
Updated: February 6, 2013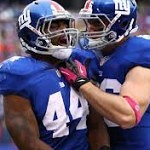 The New York Giants continued to cut payroll Wednesday after they released starting running back Ahmad Bradshaw and defensive tackle Chris Canty. The news comes a day after they released linebacker Michael Boley.
The Giants were projected to be $4.7 million over the salary cap, so we knew some tough decisions were coming in the near future. Bradshaw was due $3.75 million this season and had two years remaining on his deal. Canty was set to make $6.25 million this season in base salary and also had two years left on his deal.
Bradshaw at just 26-yrs. old, has a ton of wear and tear on his legs. He's been prone to ankle and foot injuries; with his most recent surgery coming last season to have a screw replaced in his right foot. The surgery kept him out 8 weeks. He still managed to rush for just over 1,000 yards rushing with 6 touchdowns.
The Giants spent a first round pick last season on RB David Wilson, who started the season off slow while in and out of head coach Tom Coughlin's dog-house, but when given the opportunity, shined late in the season.
Wilson will likely split carries with Andre Brown, who came out of nowhere with 385 yards rushing and 8 touchdowns in just 10 games. The duo has potential for a "Thunder and Lightning" type impact with Wilson as the speed back and Brown as the tough runner. Brown will likely get the goalline carries.
Canty battled his way back from offseason knee surgery to play in nine games last year after starting the season on the physically unable to perform list. The 6-foot-7 defensive tackle had 26 tackles and three sacks in nine games last season. Bradshaw, Canty, and Boley were all member of the Giants Super Bowl victory two years ago. The money saved with the moves will likely be used to lock receivers Victor Cruz and Hakeem Nicks up to long term contracts.
Follow Chris on Twitter @ChrisDommermuth