Eagles Agree to New Deal With Michael Vick
Updated: February 11, 2013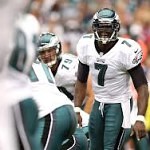 The Eagles have announced that they have come to terms with their quarterback Michael Vick on a new deal. The deal is being reported as a one year deal worth up to ten million dollars depending on incentives.
The reason the Eagles and Vick had to come to a deal is pretty simple: Vick was going to draw interest from a thin quarterback market and the Eagles have an unknown commodity in Nick Foles right now. Chip Kelly's system needs an athletic, fast quarterback and Vick pretty much fits the bill.
As far as the NFL Draft goes this means that the Eagles are not taking West Virginia quarterback Geno Smith. Maybe he will go #1 to Kansas city after all. We'll see how the market plays out.
Biggest off-season QB domino already has fallen: Eagles have re-signed Michael Vick to a one-year deal for 2013 season.

— Adam Schefter (@AdamSchefter) February 11, 2013
Eagles QB Michael Vick signed a one-year deal that could be worth up to $10 million.

— Adam Schefter (@AdamSchefter) February 11, 2013