Chiefs May Take Joekel w/ First Pick
Updated: February 4, 2013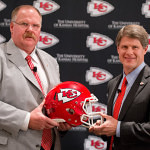 There has been much speculation on who the Kansas City Chiefs will take with the first overall pick. A quarterback makes sense when you look at the team's roster, but none of the QB's in this draft class have jumped out as number one picks.
According to ESPN West blogger Bill Williamson, the pick may not be decided based on what the draft class holds in talent, but more about whether or not the Chiefs can re-sign Free Agent left tackle Brendan Albert.
Williamson writes on about Utah DT Star Lotelelui being the best fit for the Chiefs' 3-4 defense, but if they were unable to sign Albert, Texas A&M LT Luke Joekel would be the likely pick.
I think taking Joekel over Lotelelui would be a mistake. The Chiefs have enough holes on their roster that they should be taking the best player available every time their pick comes up.
Unless you're a team that's a few positions away from contending for a Super Bowl, the mindset should always be to draft the best player available.
In an ideal draft, the Chiefs would find a partner that would trade up for the first pick, giving the Chiefs more early picks. I think they need to grab a QB sometime in the first two rounds, but unless they fall in love with one of them enough to take that player with the first pick, they should wait until the second round to select their guy.
The QB class doesn't have an elite prospect, but it does have 5-6 QB's that warrant at least a second round pick. A few of these guys will end up being above average QB's.